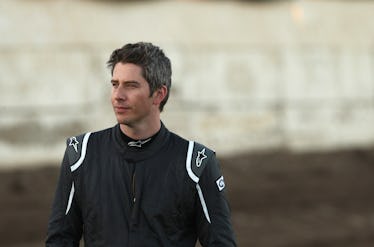 Twitter Is Convinced Arie Is Dating This 'Bachelor' Contestant & We Have Questions
Now that three of the four Laurens originally on Arie Luyendyk's season of The Bachelor have left the show, Lauren-related jokes are limited to how much Lauren B. resembles Bachelor Ben Higgins' Final Rose pick, and now ex, Lauren Bushnell. After spending a good chunk of her time with Arie this week discussing what she likes in her coffee, Lauren's not exactly the most exciting contestant, but fans may have a reason to keep an eye on her. On Twitter, viewers are abuzz with the possibility that Arie and Lauren B. are dating after The Bachelor filming.
Although we may not have seen much spark when they discussed if they preferred toast with or without crust (OK, not quite, but basically), Lauren and Arie have sparked internet rumors that, rather than being engaged, they're now dating. Arie was vocal during the promotion of the season about falling in love with two women during filming, so the possibility of him not being engaged does align with this Twitter theory. Speaking to People before the season premiered, he said:
I fell in love with two women, and I didn't know I was capable of that. I've never been in that situation, and it was really hard. And they were two very different women, and that's what made it even harder. I didn't know I was really capable of having strong feelings and being in love with more than one person, but that happened. The end was really difficult for me. And I think that it's because it's such a huge decision, and it's my life. But I'm happy, and I wouldn't have changed anything.
Although he assured us that his post-Bachelor life was great, a month into watching his experience back on TV could certainly change Arie's feelings. If Lauren B. isn't his original Final Rose winner, his comments about falling for two women now seem particularly suspicious.
Disregarding the fact that women named Lauren B. seem destined to succeed on The Bachelor, people are interpreting Lauren's dull but telling conversation with Arie as a sign that she makes it far. When she revealed to Arie that her fear on the show was him choosing someone else, some fans wondered if the focus on Arie picking the wrong woman at the end of the show was a subtle editing hint.
If Arie proposed to another woman and then went back to Lauren, which editors may be hinting, it wouldn't be the first time a Bachelor was torn between two women. Although Ben said "I love you" to both Lauren Bushnell and runner-up JoJo Fletcher, he proposed to Lauren and stayed with her for quite some time.
However, way back, Bachelor Jason Mesnick made national headlines for proposing to Melissa Rycroft and then dumping her on the "After the Final Rose" special to pursue second-place contestant Molly Malaney. Imagine how Twitter would've reacted if this happened more recently.
Jason and Molly are now married and have a child together, but that doesn't make their sketchy beginning as a couple any better.
Although the initial rumor of Lauren B.'s tie to Arie stems from certain internet detectives' valid reports, those not in the know are still curious about the duo's relationship.
As Bustle points out, Lauren's Instagram account has only released photos from the show recently, adding to the hype that she's spending secret time with Arie. Bachelor couples have to hide out until the season finale airs, so it would make sense that Lauren is laying low on real-time photos if she's meeting with Arie every now and then.
I'm currently still distracted by the crazy antics of women like Krystal and Bekah M., but soon, the seriousness of an impending proposal ought to set in for the women remaining on the show. If Lauren B. is the receiver of that proposal (or a casual dinner date with Arie instead?), we wish her the best.