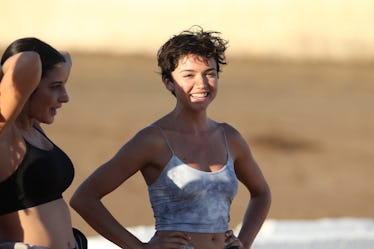 Bekah From 'The Bachelor' Is Listed As A Missing Person & We're So Confused
ABC
Here's a weird one for you. How could Bekah Martinez appear on TV week after week, have an active social media presence, be one of the most talked-about contestants on Bachelor Season 22, and still be considered a missing person? In a stranger than fiction turn of events, Bekah from The Bachelor's missing persons report was uncovered, understandably prompting viewer confusion.
Local Humboldt County newspaper The North Coast Journal posted a story Facebook Feb. 1, entitled The Humboldt 35: Why does Humboldt County have the highest rate of missing persons reports in the state? Included in its list was a surprise Bachelor Nation never saw coming: Fresno's own Bekah Martinez, the 22-year-old contestant on Arie Luyendyk Jr's current season of the The Bachelor. Of course, the reality show participant was recognized by those familiar with the show. "My sister always calls me Sherlock Holmes," Amy Bonner O'Brien, who reportedly responded to the Facebook post, said. "I was just scrolling through the 35 missing people and I recognized some of them from news stories. When I got to her, I was like wait a minute, she looks so familiar and I instantly thought of The Bachelor." As we all know Bekah is most certainly not missing these days — in fact, she's in the public eye — so this doesn't make any sense at all.
The North Coast Journal went ahead and investigated the apparent misunderstanding, using Instagram to discover images of Bekah that matched her appearance on the missing persons page. They then published a new story later on Feb. 1, Not Missing in Humboldt: Bachelor Contestant Bekah Martinez, which reported that after confirming her identity "she has been removed from (the Missing and Unidentified Persons Unit)."
Deputy Samantha Karges spoke to the publication, explaining the previous events that led to the Feb. 1 report. Their article read,
Responding to some follow up questions, Karges told the Journal via email that Martinez was reported missing at 1:06 a.m. on Nov. 18 by her mother. 'Martinez had reportedly come to Humboldt County to work on a marijuana farm. Her mother hadn't heard from her since Nov. 12, 2017,' Karges wrote.
Bekah's missing person description in the original article listed, "Rebekah Helena Martinez was last seen Nov. 12, 2017. She has tattoos on her ankles of a Scrabble tile and an ankh." When asked about tattoos, Bekah noted in her ABC Bachelor bio she has "two small ones on my inner ankles." There you have it.
We're glad to hear this entire head-scratcher has been resolved. Plus, Bekah's being a good sport about the incident. The fan favorite wasted no time in laughing the whole thing off via Twitter on the morning of Friday, Feb 2:
Proving that she's both funny and relatable, Bekah also lamented the fact that the reveal of her disliked driver's license pic was the "scariest thing about this story." We get this.
Hey — the biggest mystery of Season 22 was supposed to be Bekah's age (spoiler: it wasn't a mystery at all), but this totally trumps that, even if the conundrum was short-lived. We can all return to the show now and worry about more important questions, like if Krystal will break down again and who Arie will make-out with next.
Bekah happens to be one of the contestants who has shared clear chemistry with Arie since the very first episode. "Bekah has definitely set the bar high," Arie admitted towards the beginning. "She is stunning and she is smart and she is funny. At the end of the day I want to get married and there are so many amazing women here, it's making me feel really positive about that." Despite his supposed hesitation regarding her age, this season's leading man appears smitten with the Los Angeles nanny.
We look forward to seeing more of Bekah's charms as the season continues. We're happy to know she's well and even poking fun at the confusing situation.