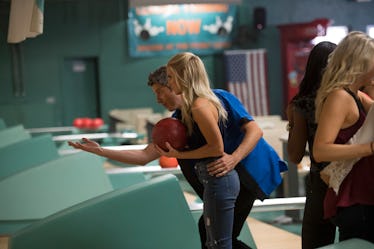 'Bachelor' Arie Blogged About Lauren B. & Woah, You Want To Read This
ABC/Paul Hebert
There's only one Lauren left standing on this season of The Bachelor, and it's clear she's winning over Arie Luyendyk Jr's heart. Season 22 kicked off with four Laurens in the mix and Lauren B. has proven she is a serious contender in this reality dating game, making it all the way to next week's crucial hometowns. Will she go all the way? Arie's quotes about Lauren B. make a strong case for the fact that he's definitely falling for her in a very real way.
Honestly, we weren't too sure about Laurie (go with the nickname) from the beginning. Their Parisian one-in-one was très awkward to watch in action, making it more than obvious that opening up is tough act for Lauren. But they eventually went a bit deeper about their respective pasts and she ended up receiving a rose in the end, getting the opportunity to further explore the relationship in Tuscany the following week. Arie admitted he was attracted to her, yet he couldn't quite crack that emotional shell of hers. Vulnerability isn't always easy, you guys.
But here's the kicker. Even though Lauren has appeared to put up walls throughout the season, she is in fact totally into Arie. On their Italian date, she even got up the courage to tell him how she felt, admitting, "It's very obvious to me that I feel like I am starting to fall in love with you."
You know what's not a cool thing to do when someone tells you they might love you? Saying "I'm gonna be right back" and just leaving with no explanation whatsoever. And that's exactly what Arie did in the moment. But regardless of his head-scratching reaction, the leading man is explaining just how much Lauren B. actually means to him. In Arie's Feb. 14 blog about the latest episode for People, Arie confessed,
I couldn't logically explain any of my feelings. I didn't know why I felt so strongly, I just did. And I know excusing myself during dinner looks crazy. It felt crazy at the time, but when Lauren told me she was falling in love with me, I was overwhelmed. In that moment, I knew I felt the same way but needed to take a moment before I could properly express myself. I hadn't felt like this about someone since Emily [Maynard].
I guess we excuse his atypical reaction to such a direct declaration, but maybe next time he should just take a deep breath to handle the "overwhelming"-ness of it all. Oh, right, this is The Bachelor and that wouldn't have been nearly as dramatic as just WALKING AWAY.
Arie did return to the date to use his words to tell Lauren he "deeply" felt the same way, so it's not like he waited until after the show to express himself. From the audience's perspective, Lauren B. comes off as a surefire frontrunner at this point.
We all know Arie fell in love with not one, but two people throughout his stint on The Bachelor — he admitted this even before his season began airing. "I think I am the type of person that I don't fall in love very easily, so for me to fall in love with two people, it was hard for me," he revealed to E! News.
The stakes get even higher next week when the hometown dates take Arie's relationship with the women to the next level. Meeting the 'rents is a big deal — the process can make or break this competition. Will Lauren B. and Arie make it past them? Will he get up from the dinner table randomly when someone asks him to pass the bread? Time will tell what's in store for these potential lovebirds.