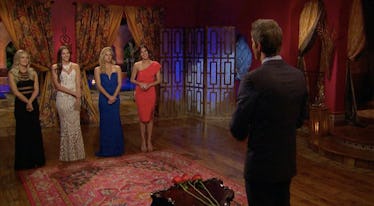 'Bachelor' Arie Explains Why He Sent Tia Home & The Reason Is Making Fans Sob
ABC
Week 8 was a big episode for Bachelor nation (and Arie). It was time for hometown dates, and nobody held back. All the contestants laid their hearts on the line, parents asked Arie the tough questions, and Arie eventually had to send one of his final four packing. It was a tough decision. Tia, Lauren, Becca, and Kendall all seem like pretty great women. However, in the end, Arie said goodbye to Tia. Why did Arie send Tia home on The Bachelor? The reason is heartbreaking.
The rose ceremony took a weird turn when Arie pulled Kendall aside for some extra time. This led fans to believe that she was on the chopping block. However, she stated her case and that she was ready for marriage. Arie ended up handing her the final rose, meaning Tia was sent home.
She tearfully kept asking him, "What did I do wrong?" Arie assured her that she didn't do anything wrong and he was very sorry. Honestly, it was pretty heartbreaking. Tia was ready to have a big conversation about what went wrong and Arie gave her NOTHING to work with.
Tia was bawling and all Arie could give her was, "I don't have a good explanation. I really don't. Believe me, I sat up all night last night and I don't know. There's just something missing."
UM, ARIE, CAN WE GET A LITTLE MORE TO GO ON? He also added that it is was about the "emotion between two people," and he just wasn't feeling it. Needless to say, it was hard to watch.
The decision came as a huge surprise to fans because Tia's hometown date went extremely well. Throughout the entire season, Arie and Tia seemingly shared a strong connection, but apparently it wasn't enough at the end.
Tia's stay on The Bachelor definitely had its ups and downs. While she's been mostly a fan favorite, Week 7 brought some drama for her.
There was an awkward group date between Bekah M., Tia, and Kendall. Three contestants went into the date, but only two came out with a rose. The suspense was intense.
The gang went to drink champagne at a mansion. The weather was beautiful and the champagne was chilled, but this date was all about the conversations. This is where Tia decided to stir up a little trouble. Tia ended up confronting Arie with her concerns about Bekah. Basically, she said she didn't think Bekah was ready for marriage because of her age.
For throwing a little shade, Tia was super straight-forward and told Bekah right to her face exactly what she said. This made Bekah erupt in tears and run into Arie's arms for comfort. Some fans erupted on Twitter and thought that Tia should mind her own business.
Tia is not here for the hate on social media. Honestly, there are a lot of interactions that viewers don't actually see at home. The contestants are painted however the Bachelor editors see fit. She tweeted on Feb. 6,
I love being able to delete comments off of my Instagram. It's exhilarating. Take your nasty hatred elsewhere.
Not everyone is here to drag Tia. One of her biggest cheerleaders is her BFF and former Bachelor and Bachelor In Paradise contestant, Raven Gates. Raven is literally the sweetheart of The Bachelor universe, and her opinion matters. She wrote an article for Bustle detailing why Bekah being sent home wasn't really Tia's fault.
Raven identified that Tia's actions weren't the best, but she doesn't think it was done maliciously. She said, "I don't think that Tia was maliciously throwing Bekah under the bus — but, needless to say, there was a bus, and there was Bekah right in front of it."
She continued,
Under all of the pressure from this show and situation, I don't think Tia thought this one completely through. But, you also have to understand that not all things are shown in an episode. (Filming goes on much longer than a two-hour episode.) So, I'm not sure what happened for Tia to feel like she needed to tell Arie these things.
Raven may not know what was going on behind the scenes that day, but she was able to speak to Tia's character. She explained,
However, I do know Tia's heart, and Tia is not a malicious person. I think she just had a lack of judgement. If she did feel this way about Bekah, I wish she would have spoken up sooner — because now it just looks calculated.
Raven compared this situation to one between her and Nick Viall when she told him former contestant Corinne Olympios wasn't ready for marriage. Her point? The Bachelor men are actually more aware of the contestants than we give them credit for. She said,
He already mentioned all the time to Bekah how he was worried about her not being ready. He didn't need anyone to tell him that. I can see how viewers might be mad at Tia, but, for what it's worth, Tia is not calculating or malicious. Tia is blunt and has word vomit. Always has, probably always will. I wish I could go back in time and tell Tia to focus on her relationship with Arie and not to compare other relationships... but, I cant.
For now, we say goodbye to Tia. However, I'm sure we'll be seeing more of her very soon. Paradise, anyone?
Check out the entire Gen Why series and other videos on Facebook and the Bustle app across Apple TV, Roku, and Amazon Fire TV.