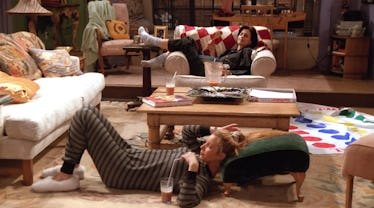 Why Every Friend Group Really Needs A Phoebe, Because Life Is Way Too Serious
NBC/Netflix
Our friends are there for us, because we're there for them, too. But sometimes, we wish our favorite sitcom characters could be part of our crew and best our best friends forever. Chandler would make sure that every moment didn't go without a sarcastic comment, Monica would keep the apartment clean, and we could raid Rachel's closet on the reg. If you're wondering why Phoebe Buffay is the best — well, first you might need to go back and re-watch Friends. We all need a friend just like her, who will remind us that life doesn't have to be so serious.
I remember when I first started watching the show and thought Phoebe was absolutely annoying. Back then, I wasn't quite adulting. And so, as I got older and inevitably kept tuning into rerun episodes, I realized that she's honestly the best and the brightest character in the crew. Her moments are the most relatable, and there's not a sticky situation that she finds herself in that she doesn't handle in her own style.
When it hasn't been our day, month, or even our year, we could all take some tips from Phoebe and remember that the real world only sucks if we make it that way. You only should ever really be considered if your plane doesn't have a phalange, or if somebody touches your guitar. That's the real serious stuff — and for now, these seven things will prove that Phoebe is truly just the best.