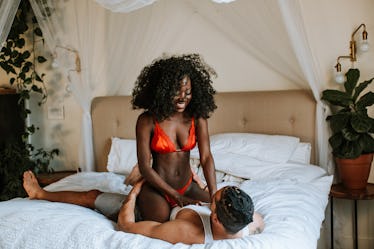 8 Reasons Why Weekend Sex Is *Always* The Most Satisfying
There's no shortage of popular graphic T-shirts singing the praises of Friday through Sunday. From "FriYAY" to "Need More Weekends," it would appear that everyone knows that the end of the week is where it's at. With a little break from school and work, it's no surprise that everyone spends all week looking forward to the weekend. I only have one question for you: Why is weekend sex the most satisfying way to get it on? I bet that's something you thought I'd never ask.
From sleeping in with your boo to finishing your sultry session with bacon and eggs, IMHO, weekend sex comes with some major perks. And although my friends that work on Saturday and Sunday will remind me that everyone's schedule looks different, getting it on when you have nothing to do the next day is something I think everyone can appreciate. If you live for taking an entire day to nail a new position, or spending laundry day naked seems better than actually finding cute and clean clothes to wear — you, my friend, are in good company.
Here are eight reasons why getting it on when you don't have to go to work or school the next day is the absolute best.