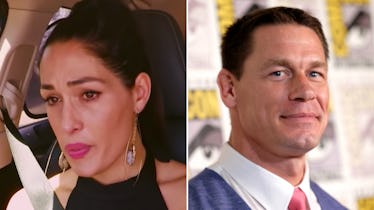 Nikki Bella's Explanation For Why She Called Off Her Wedding To John Cena Is So Emotional
YouTube/E! Entertainment & Matthew Simmons/Getty Images Entertainment/Getty Images
The breakup between Nikki Bella and John Cena has been one of the longest, most drawn-out tragedies of my life. It's always tricky when things start happening to reality TV stars in real life, because you first hear about them in the news and then, later, see what really went down when their shows air on TV. Such is the case with Bella and Cena's wedding. Fans know it was called off, but the details have been fuzzy. Why did Nikki Bella call off her wedding to John Cena? Thanks to a new clip from Sunday'sTotal Bellas season finale, viewers are finally starting to get a clearer picture of their relationship struggles.
The Total Bellas season finale looks like it's going to be a doozy. In the new teaser, Nikki, her sister, Brie, and her mom, Kathy, are driving along while she gets real about where she stands with Cena. Brie asks Nikki point blank, "what's going on" with her and John, and holy sh*t does it sound complicated.
"It's tough because he's, like, fighting really hard for me. And that makes it really tough," Nikki admits. "There's something that's making me not, like, feel like I can walk down the aisle right now. That doesn't mean never with him, I just can't do it right now."
Fans know one of the main points of friction between Nikki and John has been their opposing feelings on having children. It's always been something she's wanted, and Cena originally swore up and down he never wanted to be a father. Boy, did that change. In May, Cena totally changed his tune and told the Today show, "I love her. I want to be with her. I want to make her my wife. I want to be the father of her children. I just want us to work."
Nikki admits this change of heart totally took her off guard, but it came too late. She says,
I didn't give myself long enough the first time we called it off and I should have given myself longer, but I got so excited that he wanted kids. I couldn't believe it. I never thought I'd hear that. But I realized there were just such deeper problems.
Nikki adds, "I don't want to be the 66-year-old woman who starts living her happy life at 63. I don't want to be that."
She also confesses part of her relationship anxiety comes from the hard and fast deadlines John's been giving her to make up her mind. She tells cameras,
This has been my issue the whole time. It's that pressure thing. Everything is a time limit. Like, you have to get married [at] this point, and you have to do this. Nothing can just be... So it's like, even when he gives me this time limit to make a decision, like if I'll get married or not, it's just like, I can't even tell you. You can't put a time limit on it. You just can't.
Watch the heartbreaking teaser below and tune in to see what happens at 9 p.m., Sunday, July 29 on E!