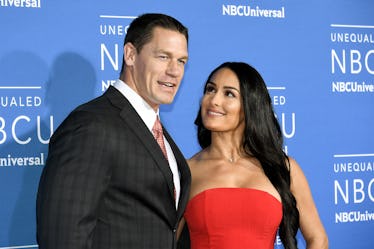 Nikki Bella Got Real About The Issues In Her Relationship With John Cena & I'm Broken
Dia Dipasupil/Getty Images Entertainment/Getty Images
The Nikki Bella and John Cena breakup slowly but surely unfurling on the current season of Total Bellas. The wrestling stars called it quits months ago, but are now working on getting back together and still maintain that they're the close friends. The show is a long ways behind on their relationship status, however, so viewers are currently watching everything that went down in the months leading up to the final cancelation of their wedding, which was supposed to happen in April. This new video of Nikki Bella opening up about her relationship issues with John Cena highlights, yet again, the struggles the pair went through before calling things off just weeks before they were supposed to say "I do." And this video shows a few dependency issues on Cena's end.
In the video, Nikki Bella, Brie Bella, and a group of friends are in Paris. Nikki sits in the back of a van when her friend, who's also sitting in the back with her, asks how things are going with Cena (her partner of six years). Bella, seeming exhausted with this topic, says, "This past week he just thought, because he had the week off in San Diego, I was gonna take a week off." Cena apparently wanted Bella to stay home with him when he had some rare time off from work, which would be understandable if it didn't also mean that he wanted her to just drop her own commitments in order to cater to him. "I'm like busier than ever," she followed up. "So he's like, 'I was really lonely.' I saw him every morning and every evening. Emails don't end just because you want my time. It's really tough."
Watch the awkwardness for yourself.
In a solo shot, Bella admits that day by day, more and more wedding nerves get seeded. "It's funny because, the closer and closer I'm getting to the wedding, the more of these deep feelings that I've had over the past six years just are coming to the surface," she said.
She also said earlier in the video that she loves traveling to Paris and wants to be able to visit the city and least once a year, then notes that Cena doesn't really like to travel since he already does so much for work. Both points of view are understandable individually, but the trend in their relationship is that if Cena didn't want something, it was up to Bella to acquiesce and sacrifice her desires (getting married, being a mother) just to keep him around. Cena remained unwilling to compromise on a lot of things. While it's not particularly bad that Cena doesn't like to travel, the possibility that he would ask Bella to travel less for his own sake when it's something she loves to do is where the problem lies.
Bella's friend chimed in and said, "That's why it's good you had a few days here, even by yourself, just to like rest and do exactly what you want to do." Bella responded with an exasperated, "Yeah," and that was that.
Cena did backtrack on his former adamant beliefs about not wanting children after they broke up. He said he now wants to be the father of Bella's children, and in an exclusive interview with Elite Daily, Bella opened up about that shocking revelation.
She said,
I think I'm going to need to go home and be in my surroundings to fully digest everything, but I think John is such an incredible man. He's amazing. He's my best friend. And I truly have hope for us in the future, but I know only time will tell.
She added, "Sometimes you don't realize how much you can lose yourself until you start finding yourself and soul-searching." She shared she has a lot of self-reflection to do before she could consider getting back with Cena. If/when she does decide to get back with him (something she has already slowly started to do, according to the former couple), she told Elite Daily that this time around, she's fighting more for what she wants. "I feel like there's just so much strength in this world that it's given me strength and has really made me stand up for what I want for the rest of my life and what will make me happy," she said. "I don't want to live with regret. I just want to live a very happy life."
Total Bellas airs Sundays at 9 p.m. on E!.