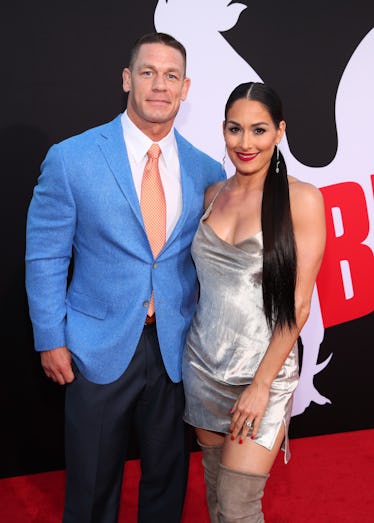 Nikki Bella Just Revealed Her Official Relationship Status With John Cena & No, I'm Not OK
Christopher Polk/Getty Images Entertainment/Getty Images
They planned their wedding, then they called off their wedding. He said he didn't want kids, then he said he would have kids. It's been a crazy couple of months for Nikki Bella and John Cena, and I can't even begin to imagine how hard it is for them to go through it all in public. I mean, I seriously love these two and just want them to ride off into the sunset together already. But we just got an update on Nikki Bella and John Cena's official relationship status thanks to a vlog Bella posted on her official YouTube channel. TBH, I'm now sitting here crying because she just said the two of them are "just friends." And no matter how many times I rewind this thing and play it back, her answer doesn't change.
"I'll admit my relationship... it has been in a super emotional roller coaster ride, and I think it's hard for people to understand because we film and then things get shown a few months after and I think people are like, 'Are they together? Are they not?'" she began. "And because I am a reality star, and I do have a reality show, and I love my reality show and I love my fans and my Bella Army, I feel like I have to ... say what's the update on John and I, but right now we're just friends."
Noooooo! Bella and Cena are in the friend zone? I'm not OK. But the reason behind it is actually a good one, so I guess Imma need to get on board real quick.
"We are both working on each other and trying to work on us," she explained. "We talk every day. He is not only my best friend, but he truly is one of the most amazing people I have ever met. And he has patience with me, and has really taught me a lot over the past few months. I think one of those things is an inner strength that I thought I had, but didn't realize how strong I had it. I don't know, I do have hope for us."
Hope! Hope is a good thing, right? I mean, after calling off their engagement just weeks before their May 2018 wedding, these two really seemed like they were trying to make things work. Plus, timing is everything, and it looks like the fact that Cena is currently in China filming a movie is giving these two the chance to take a breath and figure things out.
"I hate to say 'perfect timing,' but it's giving us this time in life to see what we really want for the future," Bella said. "I know some people — because of the media or what they read on social media — they look at this as a very negative thing. But for all of you who are going to get married, who are engaged, or who are married, I think you understand this is forever. I don't want to be someone who has a divorce, or has kids and then gets a divorce. Like, I truly want to walk down that aisle, and I wanna give my vows, and I want this to be one time. So, there's a lot of issues that I had to deal with and really want to know what I wanted for the rest of my life. And I'm just beyond grateful that I have this amazing man who is staying by my side, and helping me fight through those issues and helping me become an even better person, and even stronger. And so, that's where we're at right now ... Hopefully, one day we'll get back together, and if we don't, we just both want each other to be very, very happy."
Damn, it's all just so... amicable and mature. I think it's pretty cool that Bella is being so open with her fans, and I hope this beautiful couple eventually works things out and gets the happy ending they both deserve.