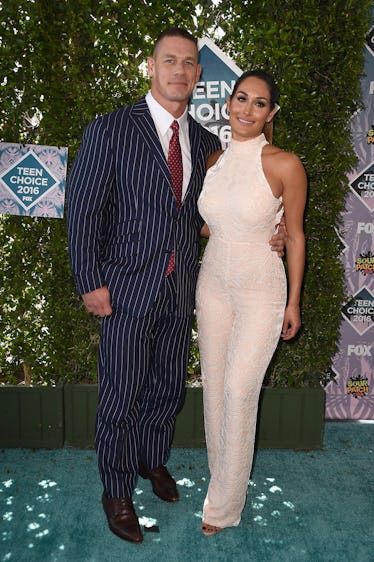 Nikki Bella Is Already Talking Babies After Reconciling With John Cena & I'm So Thrilled
Frazer Harrison/Getty Images Entertainment/Getty Images
If you've been following the ups and downs of Nikki Bella and John Cena's relationship closely like I have, you'll know that it has been a tidal wave of emotions. We watched them plan a wedding, and call that wedding off. We saw Cena open up about his hesitance to becoming a dad, and Bella's desperate desire to become a mom. We saw them split amicably, but somehow work their way back to each other. It's basically been the equivalent of a soap opera, except that it was actually their real life, unfolding on the reality show Total Bellas. But now it seems as if their engagement is back on (yay!), and Cena is willing to have kids (double yay!), and we can watch them live happily ever after (hopefully). So, when will Nikki Bella and John Cena have a baby? The WWE star reveals on a new episode of Total Bellas her potential timeline for motherhood.
After confirming that her engagement to Cena is back on (at least in the show's timeline), Bella tells her twin sister, Brie, that Cena has changed his decision on having kids. "I can't even f*cking believe it," twin sister Brie said, adding, "Get pregnant with me, on my second."
Hold your horses, there, Brie! Give Nikki a damn minute before planning babies together (although the two of them having kids at the same time would be pretty cute, if I'm being honest).
Bella admits that getting pregnant with her sister has crossed her mind, but said she's thinking of waiting a "year or two" before trying to conceive. Bella is also still in disbelief that John Cena has altered his stance on the idea of having children. She said,
I just can't believe I get to be a mom. And with the man of my dreams, I don't have to go find some guy to have a baby with.
If you missed the emotional clip of Total Bellas where John Cena agrees to have kids, you're going to want to do yourself a favor and give it a watch. The episode takes us to a restaurant where Nikki Bella and John Cena are dining at, trying to work through the issues in their relationship.
Bella explains to Cena that she still wants to be a mom, and that she believes having kids helps to keep a marriage lively. "I see the point of kids after you've been with someone for so long," Bella said to Cena — but Cena made it seem as though he thought she'll get "bored" of him if they don't have children.
"Say I was like, 'Okay we're going to have kids,' and we do and you find out that wasn't the real problem," Cena said. "And then years from now you look at me and resent ... I don't know if you're just upset that you're not going to be a mom or if you've fallen out of love with me. Because it kind of feels like both."
Though Bella seemed caught off guard by Cena's candidness, she still hung tightly to the fact that deep down, she truly wants to become a mom. "I feel like there's so much more I want to do with you and experience with you. It's just wanting to be a mom and knowing you will not be a dad. I've just come to the realization that I'm not okay with it," she said.
At this point, we've seen Bella and Cena go around in circles about the topic of children, until this moment, where Cena decides to change his mind about having children for the sake of making Bella happy. He said,
So it's literally just about being a mom? Okay, because I can't have you out of my life, ever, and I want to marry you. Relationship and marriage is about sacrifice, and I will make that sacrifice for you. I will give you a child.
Are you crying? Because I'm absolutely crying.
Of course, there is one small hiccup with the plan: Cena had a vasectomy, meaning he can't give Bella a child unless he reverses the surgery. But man, is this guy committed, because he told Bella that he's willing to have the surgery so that they can conceive naturally. "I physically can't have kids," he says in the episode. "So, I'm also telling you that I'm willing to have surgery and then still go through with being a dad."
A man who is not only willing to compromise with you on a heavy topic, but is willing to go into surgery to make it happen? It's nearly unheard of!
So, whenever you two are ready to give the world some beautiful Bella-Cena babies, just know that we're all anxiously awaiting that moment.