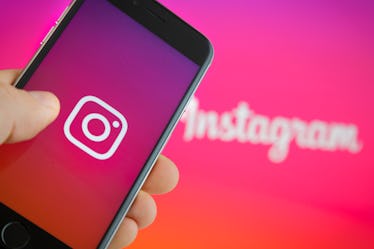 Here's What You Should Do If You Can't Add Music To Your Instagram Story Yet
Thomas Trutschel/Photothek/Getty Images
Instagram lets you transform your photos and videos with an endless selection of effects, and one of the most popular options is the music sticker, which adds a clip of a song to your Instagram Story. There are plenty of tunes to fit whatever mood you're in, but none of that matters if you can't actually find the musical feature. If you've noticed you're unable to add your fave bop, you might be wondering: Why can't I add music to my Instagram Story? Here's what you should know about using the Instagram music feature.
The music sticker in Instagram Stories has been around since 2018, but as of February 2021, it isn't available globally. According to information provided by Instagram, the ability to add music to Instagram Stories, "Music [has been] launched on Instagram and Facebook in more than 90 countries worldwide." That's up from just over 60 countries reported by the company in April 2020, and at the time, Instagram said it was "working with music industry partners around the world to add more." If you're not seeing the music sticker, there are few things you can check.
What To Check If You Don't Have Music In Instagram Stories
If you're in a country where Instagram music is available, the music sticker should be located in your sticker tray in Stories. (You can also search "Music" in your sticker tray if you don't see it right away.) If you're still having trouble finding the Instagram music sticker in your Instagram Camera, you should first make sure your app is updated with the latest version of Instagram. You can do so in the App Store for your iOS device, or in Google Play for your Android. Updating the IG app should give you the ability to select the music sticker from the sticker tray in the Instagram Camera. If you don't see it after updating, there's no need to panic.
You may need to sign out of the app and force-quit, then open up Instagram and sign back in. If that still doesn't bring you to the sweet, sweet Instagram music sticker in Stories, you can delete your Instagram app entirely, reinstall the app on your phone, and then sign in again. Once you have access to the feature, you can find the music sticker in the Instagram Camera. After you take or upload a photo or video to add to your Instagram Story or use Instagram's Create mode in Stories, you can add the music sticker by going to the sticker tray, and selecting the "Music" icon.
You can use the Instagram music sticker to basically create a soundtrack for your Story, and you even have control over exactly which part of a song you want to play. Once you're in the music sticker, you'll see two categories of songs: "For You" and "Browse." The first section is based on songs Instagram thinks you might like, and the second has many different categories with songs grouped by genre, mood, and theme. You can also search for specific song titles and artists in the sticker by using the search bar at the top of your screen.
After you've added your tune of choice to your photo or video, you can select which portion of the song you want to play — with or without lyrics — by adjusting the slide bar at the bottom of the screen, and post it to your Story. You can also send your music-filled photos and videos via Direct Message. Whichever way you share it, your followers will see info at the top of the Story with the album art, song name, and artist when they watch it, so they know what they're listening to.
Unfortunately, since this isn't yet a global feature, Instagram users in countries without the music sticker will have to wait for if and when the company adds them in another round of updates. As of February 2021, there's no update from Instagram on when that might happen.
This article was originally published on