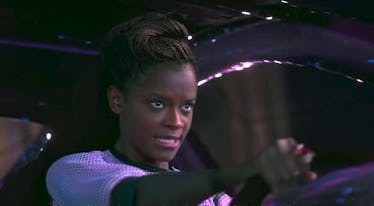 3 Things You Probably Didn't Notice In The Lexus 'Black Panther' Super Bowl Commercial
Youtube
I get that the Super Bowl is supposedly about football or whatever, but for Marvel movie fans, the big night was really all about another chance to see the Black Panther cast in action ahead of the movie's premiere in a couple weeks. Lexus partnered with the highly anticipated superhero flick for a high-octane Super Bowl commercial that was packed with killer fight scenes, adrenaline-pumping car chases, and possibly even some new details about the movie. In case you blinked, let's go over everything you might have missed in the Lexus Black Panther Super Bowl commercial.
At a glance, the new minute-long ad seems pretty straightforward: T'Challa in his Black Panther get-up beats up a few dudes who stole Vibranium from Wakanda, and then jumps into a car (a Lexus, of course) to get to a World Leadership Conference on time (in case you forgot, T'Challa isn't just a suited-up warrior, but also the king of Wakanda). But a closer look at the quick commercial might reveal some new details to fans about Black Panther. Take a look at the new Lexus Super Bowl ad with Black Panther for yourself and then we can break it down piece by piece:
First, let's talk about the song. One of the biggest mysteries about Black Panther is its soundtrack. With rap icon Kendrick Lamar curating all of Black Panther: The Album, music fans are also incredibly hyped for this movie to come out. Up until this point, only two songs from the upcoming movie soundtrack have been released: a duet between Lamar and SZA called "All the Stars" and a collaboration between Lamar, Future, James Blake, and Jay Rock called "King's Dead." The other 12 tracks on the album are still a mystery, which has led to a lot of fan theories about which other major artists will be producing original music for the soundtrack... namely Beyoncé.
While a new Bey track has not been confirmed yet, the new Lexus commercial does seem to pretty much confirm that hit-making rap duo Run the Jewels will almost certainly be featured on Black Panther: The Album. That's the Run the Jewels song "Legend Has It" that you hear in the new ad, which also scored the first Black Panther trailer that dropped last summer. Now that it's been featured in not one but two major Black Panther promos, it seems obvious that "Legend Has It" by Run the Jewels will probably be one of the tracks from Black Panther: The Album that hasn't been officially unveiled yet.
The other important information in the Lexus ad is seeing a bit more of Okoye and Shuri, the newly introduced characters that will play a major part in Black Panther. Okoye, played by Danai Gurira, pops up for just a second to give T'Challa a lift to catch the thieves. Okoye actually popped up in Captain America: Civil War for a brief bit, where she almost challenged Black Widow to a fight before T'Challa stepped in. As the leader of Wakanda's all-female special forces team the Dora Milaje, we know that Okoye can majorly kick some ass, but sadly have not gotten to see her in action yet.
The commercial offers a more insightful look at Shuri, played by Letitia Wright. In the ad, we see Shuri use some next-level technology to remotely pilot a car and pick up T'Challa, and then light-heartedly poke fun at him like only a sibling can do. Shuri is T'Challa's little sister, and also an innovative, technological genius who has made Wakanda one of the most advanced countries in the world. Honestly, Shuri is the character I am most excited for in Black Panther, especially after all the praise the character has been getting from early reviews.
The Lexus commercial comes a couple weeks before Black Panther's world premiere on Friday, Feb. 16.