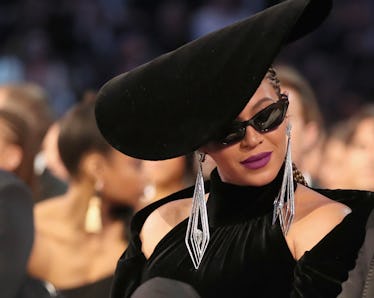 This Tiny Clue On Beyoncé's Grammys Outfit Is Sparking A Huge Theory About New Music
Black Panther had its world premiere on Monday, Jan. 29, and the reviews are in: It's fantastic. Lots of people on Twitter who attended the premiere say it was one of the "top five" Marvel movies, and that the film just knocked everything out of the park. One mystery still to be solved, however, is who is featured on the soundtrack. We already know Kendrick Lamar and SZA have a song on it ("All the Stars") and Kendrick Lamar, Future, James Blake, and Jay Rock join together on the track "King's Dead," but is Beyoncé releasing Black Panther music? Fans are starting to think she is and that she dropped major hints proving this via her various Grammys looks this past weekend.
Queen Bey served us looks all of Grammy weekend. She wore black for most of the weekend — something I really relate to on a spiritual level — and paid homage to the Black Panther movement with her accessories. The black beret was the most obvious homage to the Black Panther movement, but fans started to notice tiny details in her Grammys looks that hinted at something more.
Fans realized Beyoncé brought a clutch in the shape of a black panther to the Grammys and wore black panther earrings to a pre-Grammys party.
This is making people on Twitter think this was Beyoncé hinting she's on the Black Panther soundtrack.
This isn't the first time Beyoncé has paid homage to the Black Panthers.
Her 2016 Super Bowl performance featured her and her dancers in Black Panther-inspired military outfits, and her dancers wore the black berets like Bey did Grammy weekend. Given this, it makes sense Black Panther would try to get her to do a song for the film. It also makes sense that she would want to do a song for it.
Seeing as the entirety of the Black Panther soundtrack hasn't been released yet (only two songs are out currently and the names of the rest haven't been revealed on iTunes), it's almost a given that artists other than Beyoncé (if she's on it) will be featured on the soundtrack.
We could very well see JAY-Z on the soundtrack, Rihanna, Childish Gambino, The Weeknd — who knows. The possibilities are endless when nothing has been announced yet. But fans are convinced Queen Bey will be on it. It's been rumored for a while, and these subtle fashion choices of hers made so close to the release of Black Panther make these rumors seem more like facts. Beyoncé is also starring in The Lion King live-action remake Disney has in the works, and Disney owns Marvel, so she already has a connection to the Marvel Cinematic Universe.
If you're still not convinced, there's another hint that Beyoncé will be on the Black Panther soundtrack: The Black Panther production designer, Hannah Beachler, was the production designer for Lemonade. Beyoncé likes to continue working with people she's collaborated with positively in the past, and Beachler's work on Lemonade was stunning. It's totally possible this connection was Black Panther's in to getting Bey to sing on the soundtrack, as well as Bey's relationship with Disney.
In case you were worried about how Black Panther would turn out, don't be. Celebrities and critics who were at the premiere say it's excellent.
One critic went so far as to say Black Panther sports a Game of Thrones-level of "intrigue."
Yeah, I'd say these are all pretty freaking good reviews. Black Panther first appeared in the Marvel Cinematic Universe in Captain America: Civil War and fans were immediately impressed by Chadwick Boseman's performance. Now, Boseman stars in the Black Panther origin story alongside Michael B. Jordan as Erik Killmonger (ominous name...), Lupita Nyong'o as Nakia, Angela Bassett as Ramonda, Get Out's Daniel Kaluuya as W'Kabi, and more. The cast is star-studded, to say the least, so we can probably expect the soundtrack to be as equally star-studded. Whatever you're up to, Beyoncé, we are ready for the new music.