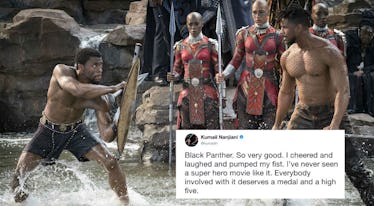 Critics Are Freaking Out Over 'Black Panther,' So Get Your Tickets ASAP
Marvel
It sounds like the Marvel Cinematic Universe may have just found its best movie ever... or at least that's what the critics are saying. Black Panther had its world premiere on Monday night, and although all the rest of us are still going to have to wait a couple weeks for the new superhero film to be released to the general public, now we finally have confirmation that it will definitely be worth the wait. Black Panther's ratings are already through the roof, with critics gushing about the premiere all over Twitter.
Immediately after the Black Panther premiere on Monday night, Twitter blew up with critics sharing their (spoiler-free) reactions to the new Marvel movie, and it was pretty much impossible to find anyone who didn't absolutely love it. Overall, there seems to be a critical consensus that Black Panther is the best movie to come out of the sprawling Marvel Cinematic Universe to date, with attendees at the premiere gushing over how visually stunning and refreshingly meaningful the story feels. The Geeks of Color blog called it the best MCU movie ever, and writer-actor Kumail Nanjiani said that he had never seen a superhero movie like it. Check out some of the reactions to the Black Panther premiere below:
In terms of a particular standout performance, several critics are singling out Letitia Wright, who plays T'Challa's little sister Shuri, as the best part of Black Panther. It sounds like Shuri brings the lightness and humor to the movie, a factor that has proven all-important in Marvel movies.
The other standout definitely seems to be Michael B. Jordan, who plays the movie's villain Erik "Killmonger" Stevens. Critics are saying that Killmonger is the best villain to come from the Marvel Cinematic Universe, and some are even comparing Jordan's portrayal of the complex antagonist to Heath Ledger's acclaimed turn as the Joker in The Dark Knight.
Basically... this movie sounds like it kicks ass.
Fans have been looking forward to a Black Panther movie ever since Chadwick Boseman's character was first introduced into the Marvel movies in 2016's Captain America: Civil War. The new standalone movie will take place after the events of Civil War — when T'Challa returns to his home country of Wakanda to find that two enemies of his kingdom are conspiring to take him down. Michael B. Jordan plays Killmonger, the main villain, a Wakandan exile turned black-ops soldier who is out to overthrow T'Challa. To help T'Challa out, he has Nakia, Okoye, and Shuri on his side. Nakia (Lupita Nyong'o) and Okoye (Danai Gurira) are both members of the Dora Milaje, which is Wakanda's all-female army dedicated to protecting T'Challa. Shuri (Letitia Wright) is T'Challa's younger sister who is incredibly gifted at technological innovation.
Another thing about Black Panther to get excited about (as if you needed more) is the soundtrack, which was entirely curated by Kendrick Lamar. Two of Lamar's songs from Black Panther: The Album have already been released — his dreamy duet with SZA "All the Stars" and his collab with Future, James Blake, and Jay Rock "King's Dead." But the rest of the artists featured on the soundtrack is being kept under wraps until the album is released on Friday, Feb. 9. Fans are speculating that Beyoncé might be featured on the soundtrack, so you know it's going to be lit if that's true!
The wait for Black Panther is almost over for the rest of us! Black Panther is pouncing into movie theaters on Friday, Feb. 16. If you are trying to see it on opening night, you might want to buy your ticket now...