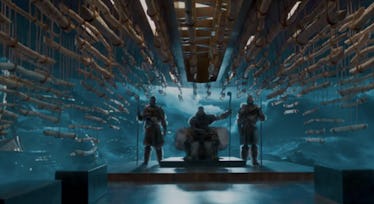 'Black Panther' Tickets Are Selling Out So Fast, Lupita Nyong'o Couldn't Get Tickets
Marvel
Back in 2015, Lucasfilm did something no one had tried before. It timed the pre-sale of tickets for of the film that would reboot the franchise, Episode VII, Star Wars: The Force Awakens to the TV debut of the third and final trailer. It was extraordinarily effective, crashing ticket websites across the U.S. This past fall, Lucasfilm did it again with Episode VIII, Star Wars: The Last Jedi. Picking up on the trend, Disney's other movie powerhouse, Marvel's MCU did the same this week, and the result is Black Panther ticket sales are through the roof.
Marvel didn't quite imitate Lucasfilm. It didn't time the sales of tickets to start when the final trailer ended, as Star Wars has done. But in terms of the format, it was pretty close.
Step One: Tickets go on sale at 12 p.m. PT on a Monday.
Step Two: On the same evening, during one of the most watched football games of the year, a trailer drops and ends with "Tickets are on sale now." (Bonus cookies, the trailer was also timed to coincide with Black Panther soundtrack curator Kendrick Lamar's live halftime show, which promotes presales of the soundtrack.)
Step Three: Pandemonium ensues.
Step Four: Profit.
I think we can assume that from here on out this will be the Marvel MO for all highly anticipated films from its ongoing series. (Avengers: Infinity War being the next one that falls into that category.) Heck, it might just do it for all Marvel movies going forward, period. Because, like Lucasfilm's success with the formula, it caused pre-sales for the film on opening weekend to go through the roof.
In fact, Black Panther just set the record for Marvel ticket pre-sales, passing Captain America: Civil War.
After tickets went on sale Monday night, Black Panther is already outstripping Captain America: Civil War as Fandango's best-selling MCU title in the first 24 hours of presales. Captain America: Civil War kicked off the opening of summer 2016 during the first weekend of May with $179M.
Now there's never a direct correlation between great advance ticket sales and anticipated weekend box office, however, we're talking about a Marvel release here and presales are part of the barometer for determining opening weekends. ...Black Panther [could] ...become the highest opening of all-time for a February release, besting Fox/Marvel's R-rated Deadpool ($132.4M), but the best opening before summer.
This is where I would like to note that Black Panther is the 18th film in the Marvel Cinematic Universe since the franchise began back in 2008. Lucasfilms is 18 films in, and the series is *still growing* in audience excitement, to the point where it can beat its own records in opening weekend ticket pre-sales.
Meanwhile, in ironic twists, the formula worked *so* well that those who were involved in the movie were taken aback by the surge in demand. One of the biggest stars of the film, Oscar winner Lupita Nyong'o, logged on planning to preorder so her family could all go see it together opening night, and well... she failed to get tickets. By the time she got through, they were already sold out.
She took to Twitter in shock and awe.
I kid you not, 15 minutes later, I was trying to purchase tickets, and they are sold out. Sold out!
At least Nyong'o has an in with the movie, so she can probably get her friends and family in on opening night somewhere. But for those fans who are not part of the Dora Milaje, or the ex-girlfriend of T'Challa himself, we're going to have a deuce of a time going to see it opening day.
Black Panther opens in theaters Friday, Feb. 16, 2018, and is already on track to have a serious box office busting weekend. Tickets, or at least what's left of them, are on sale now.