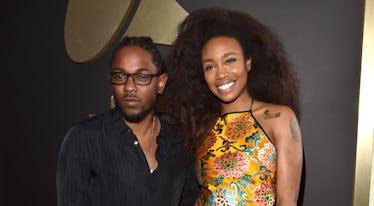 Kendrick Lamar & SZA Dropped A New Song For The 'Black Panther' Soundtrack & It's Epic
Lester Cohen/WireImage
Marvel fans still have a month to wait for the Black Panther movie, but now they have even more to look forward to. On Thursday morning, Kendrick Lamar and SZA released the first single from the movie's soundtrack called "All the Stars," and it is a breathtakingly gorgeous and shimmering hip-hop collaboration. Check out Kendrick Lamar and SZA's Black Panther song for yourself below.
"All the Stars" is not exactly the type of track you would expect in a big-budget, explosion-filled superhero movie like Black Panther — instead of the pounding beats and ferocious lyrics that Kendrick Lamar has definitely proven he can deliver, the rapper opted for a more reflective, chill vibe with the new song. His verses flow over a sparse, beeping beat into SZA's swelling chorus. Basically, don't expect to hear this song during a fight scene; it will probably play during one of the quieter, introspective scenes in the upcoming movie.
Along with being two of the buzziest and most celebrated musical artists in the world right now, Kendrick Lamar and SZA are also label-mates and frequent collaborators. Both are signed to the hip-hop and R&B label Top Dawg Entertainment (TDE), and most recently worked together on the song "Doves in the Wind" from SZA's album Ctrl.
Listen to "All the Stars" below:
And there is even more news to be excited about — along with the release of "All the Stars," Kendrick Lamar revealed that he is in charge of curating the entire Black Panther soundtrack, alongside TDE founder Anthony "Top Dawg" Tiffith. Black Panther: The Album is already up on iTunes and available for preorder, with its release date listed as Feb. 9, exactly one week before the movie is released. However, the iTunes page does not tell us what other songs and artists will be featured on the soundtrack, just that it will consist of 14 tracks. The album's cover is also currently only a black box on the iTunes preview, so the cover art may not even be released yet.
Last month, eagle-eyed fans noticed that Kendrick Lamar was teasing his involvement in the Black Panther movie soundtrack during a quick shot in his music video for "LOVE." The words "B. Panther Soundtrack Coming Soon" flash up on the screen about 2 minutes into the video for a brief moment.
Kendrick Lamar gushed about Black Panther in his statement announcing his involvement in the soundtrack, calling it "a great marriage of art and culture."
Marvel Studios' Black Panther is amazing, from its cast to its director. The magnitude of this film showcases a great marriage of art and culture. I'm truly honored to contribute my knowledge of producing sound and writing music alongside [director] Ryan [Coogler] and Marvel's vision.
Black Panther has been one of the most highly-anticipated movies in the Marvel Cinematic Universe. When the movie dropped its first teaser trailer during the NBA Finals last year, it dominated social media by quickly becoming the top trending item on Twitter, and racked up a whopping 89 million views in just its first 24 hours of release. The movie will be Black Panther's second on-screen appearance in the MCU after first entering the fray in 2016's Captain America: Civil War. This standalone will follow the events of that movie, seeing Chadwick Boseman's T'Challa returning home to the fictional African nation of Wakanda to find civil unrest brewing. Black Panther will also be the final Marvel movie before this summer's third major team-up flick, Avengers: Infinity War.
Black Panther will land in theaters on Feb. 16. Until then, I will be playing this new Kendrick Lamar and SZA song on repeat.