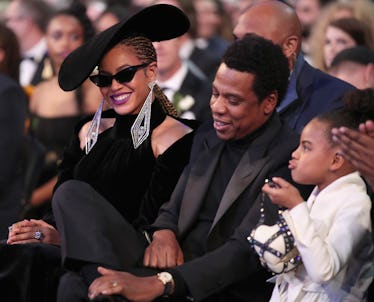 This Woman's Reaction To Seeing Beyoncé IRL Is Literally All Of Us
Christopher Polk/Getty Images Entertainment/Getty Images
Beyoncé showed up to the Grammys on Sunday, Jan. 28, dressed in all black with a killer hat and extra AF jewelry to boot, and it was truly a wonder to behold. The only person who upstaged her (and is capable of upstaging her, TBFH) was Blue Ivy Carter herself. (It makes sense. She is Beyoncé Jr., after all.) But before Bey and Blue even joined JAY-Z in the Grammys crowd, we had an epic weekend of pre-Grammys celebrations with photos of the Carters galore. As a result, Beyoncé at the Grammys became one of the biggest memes of the weekend. There's a photo from Clive Davis' Grammys party circulating the Twitter-sphere right now that shows Beyoncé and JAY-Z strolling down a hallway looking all blissful and what not. In the background, there's an old woman staring at them with her mouth wide open simply in shock that she was looking at Beyoncé in the flesh. I have never related to anything more in my life.
The photo was taken on Saturday night either before or after JAY-Z and Beyoncé made their way to the Clive Davis Grammys party. Bey was wearing that now-iconic black dress with the black beret, looking flawless as always, and this woman was just walking down a hallway... minding her own business...
When suddenly, Beyoncé appears!
It instantly became the meme of the weekend.
Beyoncé's MANY Grammy looks stunned us all because obviously.
Beyoncé's hat at the Grammys was also a hit in the meme world.
Beyoncé and Blue Ivy Carter were at the Grammys to support JAY-Z, as he was up for eight awards (and criminally lost all of them). So basically, Bey and Jay came dressed in all black to mourn the losses Lemonade suffered last year and to be prepared just in case they also had to mourn the losses of 4:44. The Grammys did the Carters dirty these past two years, fam. But at least Blue was there to make us feel better.
Blue Ivy Carter shushed Beyoncé during the Grammys, and it was one of the funniest moments of the night. Beyoncé may run the world, but Blue Ivy Carter runs their home.
What a blessing it is to have new Beyoncé and Blue Ivy memes in the world. There were some wonderful Blue and Bey moments at the 2017 Grammys, as well. When Beyoncé won Best Urban Contemporary Album for Lemonade, she talked about wanting to create music that reflected the beauty of her children and all black women in her acceptance speech. She said,
Thank you to the Grammy voters for this incredible honor. Thank you to everyone who worked so hard to beautifully capture the profundity of deep Southern culture. I thank God for my family, for my wonderful husband, my beautiful daughter, my fans for bringing me so much happiness and support. We all experience pain and loss and often we become inaudible. My intention for the film and album was to create a body of work that would give a voice to our pain, our struggles, our darkness and our history. To confront issues that make us uncomfortable. It's important to me to show images to my children that reflect their beauty, so they can grow up in a world where they look in the mirror — first to their own families as well as the news, the Super Bowl, the Olympics, the White House and the Grammys — and see themselves. And have no doubt that they are beautiful, intelligent and capable. This is something I want for every child of every race. And I feel it's vital that we learn from the past and recognize our tendencies to repeat our mistakes. Thank you again for honoring Lemonade. Have a beautiful night. Thank you for tonight, this was incredible.
I'm not sobbing onto my keyboard, YOU ARE. OK, OK, OK, enough of the serious sentimental stuff.
Beyoncé showed up to the Grammys looking like she was testing out looks for Prince Harry and Meghan Markle's wedding, and for that, I am eternally grateful.
THESE ARE BLESSED TWEETS.