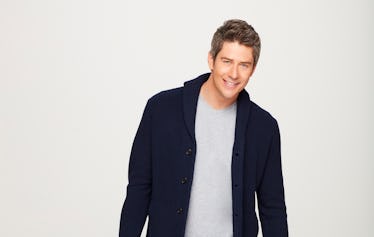 Fans Already Think They Know Who Wins 'The Bachelor' & Here Are Some Clues
ABC/Craig Sjodin
Freshly cut roses. Glitzy evening wear. The phrase, "Can I steal you away for a second?" There are a few things #BachelorNation can plan to count on when it comes to their beloved reality competition show. Arie Luyendyk, Jr.'s season is getting closer and closer to an official debut and even though the leading man hasn't even uttered his first "will you accept this rose?" yet, loyal viewers already have that potential proposal on the brain. Who wins The Bachelor? The fans are curious, of course, and the clues — no matter how big or small — are keeping them guessing about the show's outcome.
Info about Season 22 has been released slowly but surely and there are signs that indicate Arie gets down on one knee in the finale. The former race car driver has already revealed that that he indeed fell in love with two women over the course of the season, so we can probably assume he makes a choice and leaves whatever exotic locale the final episode takes place in engaged. Plus, we know settling down is his priority. "I want to get married, and I want to start a family," Arie told Entertainment Tonight. "That's important to me." Yeah... we can see that. But who do you want to get married to, Arie-kins? (Sorry, we've been watching too much Riverdale lately.) Fans are looking to a handful of hints that might point them to an answer. Warning: If you don't want spoiler-y clues about the future of Bachelor Season 22, do not read on.
1. Why Not Play the Odds?
This prediction/theory really comes down to the fact that it's based on a sheer numbers game. Yes — there are four Laurens out of the 29 contestants — which we imagine would be quite confusing for everyone in the mansion... and Arie. Arithmetic isn't our fave subject but statistically a "Lauren" has the highest chance of winning this thing because there are more of them. Naturally, the jokes have ensued.
So, who are the Laurens in the running? Tech salesperson Lauren B., executive recruiter Lauren G., recent masters grad Lauren J., and social media manager Lauren S.
2. Who's Getting Early Attention?
The age-old rule of thumb for reality TV competition shows is that the producers are probably not going to waste too much time highlighting contestants that don't have a future on the show in question. Sure, we also understand they might throw a red herring or two in the mix. Look no further than The Bachelor: Countdown to Arie special, which introduced #BachelorNation to Maquel, Tia, Bekah, Nysha, Kendall, Marikh, and Caroline before anyone else.
3. Who Gets More Screen Time?
Of course, the sneak peek trailer could always be another indicator of who might stick around for a longer haul. Seinne, Chelsea, and Krystal all get significant face time in the ABC clip.
Bekah, whose age is absent from her bio, appears to have a situation that revolves around the fact that she doesn't reveal how old she is. The nanny has been talked about for that arc (we see her crying in the trailer), as well as her chic pixie cut.
Chris Harrison listed Bekah, Seinne, Chelsea, Bibiana, and Kendall as his "Top 5 Contenders for Arie's Heart" in PEOPLE, so do with that what you will, sleuths and speculators.
4. Making Connections?
Tia is also getting some early buzz considering she's best friends with a fan fave alum of the franchise. Raven Gates — who you may remember from Nick Viall's season and Bachelor in Paradise fame — calls Tia her BFF, a detail that is definitely piquing people's interest. Raven made it to the finale, so perhaps that bodes well for Tia's chances?
Who else has reason to hit it off with Arie? There are four real estate professionals competing (Ashley, Caroline, Chelsea, and Seinne), so they all have something in common with the now-realtor, Arie. Jessica is a TV host, so she'll be comfortable in front of the camera. Bri is a sports reporter and Arie was a race car driver, so... keep guessing, folks.
Let the predictions continue, #BachelorNation. We'll get closer to an answer when The Bachelor premieres Jan. 1, 2018 on ABC.