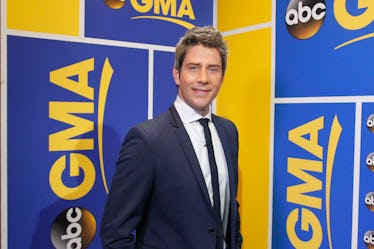 3 Clues That Probably Mean Arie Proposes At The End Of 'The Bachelor'
ABC/Lou Rocco
You can watch The Bachelor for the drama, the tears, the glitzy gowns, or even the epic date inspiration. Sure — the main point often gets lost, but lest we forget that the goal of these dating shows is supposed to be making sure two people find true love (on national television, no less) and ultimately get married. It seems like a farfetched process, yet we've not only accepted it, we've embraced it with open arms. So, does Arie propose at the end of The Bachelor? With a new season of everyone's favorite reality dating competition about to get under way, naturally that's the ultimate question on everyone's mind.
If you've been paying any attention to the never-ending saga that feeds #BachelorNation, you should know by now that Arie Luyendyk, Jr. is no stranger to the franchise. The 36-year-old former race car driver competed for Emily Maynard's season of The Bachelorette, ending up in the runner-up spot. It took five years for him to land the big leading man role and now he's finally the one in control of those covetable roses. And we're wondering if roses are the only thing he'll be handing out. All signs point to the fact that he could be giving one special lady a ring at the end of his, um, journey. What are those signs, you ask?
1. He's Ready to Settle Down
OK, this doesn't technically mean much considering he is the actual Bachelor and wanting to settle down is pretty much prerequisite number one... but it does seem like Arie's in that marriage-state-of-mind. Just because you sign on to go on this show does not automatically guarantee you're ready for a ring. Remember Peter Kraus on Rachel Lindsay's season of The Bachelorette? Of course you do. The contestant and eventual second place holder wasn't exactly gung-ho about a TV engagement, even if he did have feelings for Rachel. But Arie is 36-years-old (that's on the older side when it comes to the show's historical average) and even admitted on ABC's "Countdown to Arie" special that he was at his brother's wedding and thought "he was missing something." After it was revealed that he would be the next Bachelor, he told Michael Strahan on Good Morning America,
I'll be 36 in a few weeks so for me it's time... All my friends around me have kids and are grown up, so for me I feel like I'm the last one of my friends to take that step. And my little brother got married, and he's 24.
2. He Fell in Love During His Season
Another clue that Arie may have ended his season with a proposal comes straight from the man himself. The show hasn't even officially premiered and he already disclosed that he found love while filming.
"The journey obviously was a great experience and I did fall in love," he told Us Weekly. "I actually fell in love with two people … The toughest part about being the Bachelor would probably be the end, making tough decisions toward the end. I mean, that's the hardest decision of your life, really. It's a forever decision, so it's not taken lightly. I think that was probably the hardest thing."
3. He Mentions Getting Down on One Knee
For the biggest indication that Arie proposes, look no further than the dramatic jam-packed trailer for the upcoming season. At one point we hear his voice saying,
Along this journey, I went through so much confusion ... My biggest fear was getting to the end and proposing to someone who wasn't ready. But now, I don't know, I just really see it with her and I just hope that she can see it with me too. I'm nervous. I'm scared. I'm going to tell this girl that I love her and hopefully get down on one knee and I just hope that I don't regret it.
Yes, we are hanging on that word "hopefully" here, but hopefully he tackles any conflicting obstacles in his way and ends up with a fiance before the season finale credits roll. We'll find out more when The Bachelor Season 22 premieres Jan. 1, 2018 on ABC.