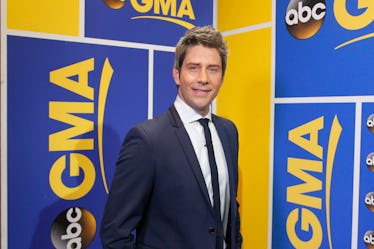 Tweets About 'The Bachelor: Countdown To Arie' Are Taking Over & People Are Into It
ABC/Lou Rocco
Arie Luyendyk Jr. finally made his Bachelor debut as leading man on ABC's "Countdown to Arie" special Monday, Dec. 11. Um, do we really need a lead-up to the upcoming season considering it starts in just a few short weeks? Probably not, but that doesn't mean we're not eating it up like Corinne eats her nanny Raquel's cheese pasta. If you get that ridiculous reference then you likely tuned in or are excited to dive into Season 22 of The Bachelor, no matter who's headlining. And you're not alone. The tweets about The Bachelor: Countdown to Arie special prove that people are pumped... to chime in with their reality TV opinions. And they're warming up to Arie. It's all happening.
The Bachelor has been fodder for Twitter reactions and opinions for as long as the social media platform existed. When ABC released information on contestants for the next season of the show over the weekend, the #BachelorNation Twitterverse went into an immediate frenzy, weighing in on their bets for who would make it and who would get the boot early on. Reality TV is never without its loyal and outspoken peanut gallery. Who's to say this season will be any different? Bach fans had quite a lot to weigh in on — and it wasn't all good — when Arie was announced as the man for the job after months of speculation and #TeamPeter, #TeamDean, and #TeamWhatever discussions. So, what are they saying now that the official televised countdown has begun? Dun dun dun.
Well, some people are all in on the kissing bandit. They like him! They really like him!
And some... still can't come to terms with him as The Bachelor.
Yeah, that's not exactly the warm welcome wagon the race car driver was probably hoping for. But it's #TeamPeter talking and we get it. Some love never dies.
Arie is ready for his own love story, you guys. He was at his brother's wedding and thought, "man, I'm really missing something," so you know his intentions are pure. "Even though The Bachelorette was my biggest heartbreak, it was also proof that I could fall in love." We'll take your word for it, Arie, because Chris Harrison just said that this was the most romantic — not dramatic — Bachelor season in history. And every word Chris Harrison says is as good as gold.
OK, back to the special.
When it comes to the contestants vying to win Arie's heart, there's plenty to talk about. This year we've got four Laurens, three real estate professionals, and at least one major fan of taxidermy. (Sorry, Jules with the ukulele.) Producer Mike Fleiss is already Twitter-promising that they are the BEST GROUP OF WOMEN IN BACHELOR HISTORY, so there's that.
But who got your first impression rose? We only got a glimpse at what's to come in terms of the ladies competing for Arie's affections, but suffice it to say we're intrigued.
Let the fantasy brackets commence. No matter who you're rooting for at this early stage in the game, you have to admit this season looks better than many loyal fans anticipated it would be. Arie seems seriously ready to commit — he only mentioned that about, say, 255 times — so maybe he really did find love this season. Sure, you have a lot to say about his suit, but maybe we're starting to give this guy a real fighting chance at not only winning the heart of the woman of his dreams, but winning the hearts of America. #BachelorNation is ready. The countdown to #JanuArie starts now.