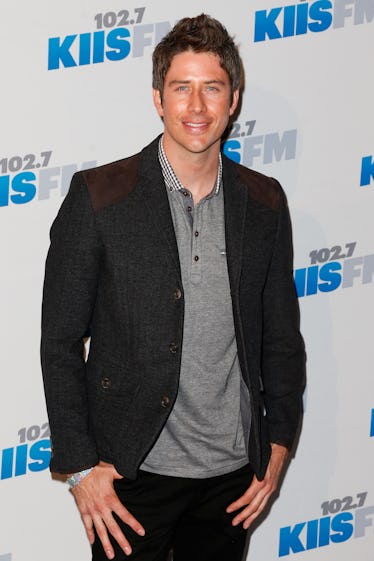 Tweets About Arie's 'Bachelor' Contestants Show Fans Placing Their Bets
Imeh Akpanudosen/Getty Images Entertainment/Getty Images
Every season of both The Bachelorette and The Bachelor, people all around the country stock up on their favorite viewing snacks, round up their besties, and place their bets. From the moment the contestant list is revealed, fans can't stop making their predictions, which is most of the fun anyway. Hey, if you're single yourself, why not invest all of your energy into taking guesses at someone else's love life? There's absolutely no harm in playing pretend. Tweets about Arie's Bachelor contestants are already blowing up the Twitterverse, and yup, this season isn't any different. Fans cannot wait to see if Arie Luyendyk Jr. finds love.
In case you need a refresher, Luyendyk was the runner up on The Bachelorette in 2012, when Emily Maynard was looking for her true love. Fans watched the heartbreaking rejection on TV, but over the last couple of years, Luyendyk has remained more or less out of the public eye. This year, there was a lot of speculation that Peter Kraus would be the next Bachelor contestant, as he was recently on everyone's mind after Rachel Lindsay let him go on the latest season of The Bachelorette. Even once Kraus shared he wouldn't be the next bachelor, Luyendyk seemed to come out of nowhere when ABC tweeted the big reveal that he'd be handing out roses in 2018.
Now that you're caught up, you can officially begin making your predictions. The contestants for the next season of The Bachelor are officially here, and fans are already tweeting with anticipation on who they think will land Luyendyk's heart.
In September, ABC Announced The Big News
Though the announcement of Luyendyk being the next bachelor was definitely a shock, it didn't take long for fans to rally behind him and speculate about his future wife.
Let's Just Say There Are A Lot Of... Repeats
Ahhh. Four Laurens are set to compete for love this season. I guess that will make it easier for Luyendyk to not call someone by the wrong name? (Is calling someone you're dating/sleeping with by the wrong name something that even happens IRL, or is it just, you know, an easy fight-starter in movies?)
Don't ask me, I don't even address a guy by his name unless we've been dating for a minimum of six months.
This Twitter User Is Already Making A Bold "All Or Nothing" Bet
User @magdacious wants you all to know she is team Kendall and she wants you to f*cking remember it when she's right at the end of the season, thank you very much.
Yo, Where The Redheads At?
Twitter user Alicia is peeved there are no redheads on the latest season. I mean, she has a point, that's a large group of women and there's definitely multiple blondes.
Portland Represent
There are usually tons of contestants from major cities like Los Angeles or Dallas, but this year Arie will also have Chelsea, a 29-year-old from Portland, Maine. Portland, Maine is very tired of Portland, Oregon outshining it, so Chelsea, no pressure or anything, but YOU BETTER WIN THIS. Tori is counting on you.
Speaking Of Chelsea...
Some fans are saying Chelsea looks a lot like Olivia Caridi from Ben Higgins' season of The Bachelor. Caridi gained a reputation with Bachelor fans as "not being out for Higgins' best interests" and her "selfish" demeanor on the show, so hopefully Chelsea is on an American reality TV show for honest reasons, ya know, like, instead of just trying to amass more Instagram followers.
Either way, I'm not judging; I love a good TV villain.
"You're Welcome For Your Christmas Present." — ABC
Ahhh just when you were sitting around your desk job wondering when your holiday vacation hours will kick in, you finally have something to live for. The big contestant reveal is just like being on a dating app; you judge people you don't know based on their photos and names alone, and wonder if they really are 26. But with The Bachelor, it's way better because you don't actually have to leave your couch to go on a real date. You can just go on Arie's dates!
One User Praised The Diversity On This Year's Roster
One thing's for sure: Arie is lucky to be in the presence of so many talented, smart, and attractive women. Even if he doesn't find love, think of all the amazing vacation spots they're sure to go to this year. Swimming with pigs in The Bahamas, anyone? The Bachelor really put that one on the map for all of us. I don't even like animals, but I reserve the right to swim with a pig if I damn well please because the scene is beautiful and the water will definitely make sure a pig does not charge at me.
Tune in to the premiere of The Bachelor on ABC on Monday, January 1, 2018. Honestly, I can't think of any better way to kick off the first day of the year. Now... who wants to cast ballots?