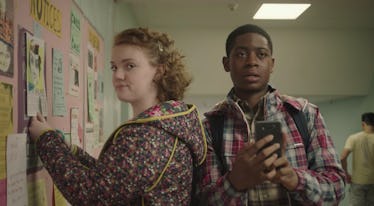 This Character From 'Sierra Burgess Is A Loser' Has Become A Serious Fan Favorite
Netflix
If you have seen Netflix's latest teen rom-com Sierra Burgess Is a Loser, then you already know that the real star of the movie isn't Sierra Burgess as the title suggests, but her best friend Dan. I mean, sure, I guess Shannon Purser and Noah Centineo's deceit-filled romance is technically at the center of the movie, but it would not be half as funny without Dan cracking jokes and providing some serious reality checks along the way. So, it's obvious that viewers would start wondering who plays Dan in Sierra Burgess Is a Loser? You might have seen RJ Cyler before, and you are sure to see him again pretty soon.
Dan is definitely the scene-stealer in Sierra Burgess Is a Loser, from his quick-witted retorts to the much needed truth bombs he drops on his bestie, Sierra Burgess, when she deludes herself into thinking her catfishing scheme is no big deal. Actor RJ Cyler didn't just win over tons of Netflix viewers with his comedic best-friend performance, but also his costars. Netflix's "it" boy Noah Centineo, who plays the head-over-heels jock Jamey in Sierra Burgess, confessed to Seventeen that working with Cyler was his favorite part of making the movie:
He's a genius. Every time he does a scene he changes it and yet it still fits in to the plot and writing. Just watching him work and learning from him was a gift.
And this is not the first time that RJ Cyler stood out in the role of a best friend. Cyler's breakout role was in the 2015 dramedy Me and Earl and the Dying Girl, as the titular Earl. But his biggest blockbuster yet was his starring role in last year's live-action Power Rangers movie, in which he played the Blue Ranger. That movie ended with a sequel-teasing cliffhanger, and there are early reports that a sequel is in development, so fans will likely see Cyler suit up as the Blue Ranger again sometime soon.
On the television side, RJ Cyler is part of the main cast of Jim Carrey's '70s-set stand-up comedy Showtime series I'm Dying Up Here, which wrapped up its second season a couple months back. Cyler is also set to star in the upcoming third season of MTV's Scream, playing a football star named Deion Elliot whose past comes back to haunt him and his friends. Cyler is working with a ton of big names on Scream's third season, including Mary J. Blige as his on-screen mother, and alongside buzzy costars like Tyga, Keke Palmer, and Tyler Posey. The third season of Scream has yet to set a premiere date, but it is confirmed to premiere before the end of 2018.
So, even if you didn't know RJ Cyler before Sierra Burgess Is a Loser, viewers will definitely know him now that he stole so many scenes in the high school rom-com... and you'll be seeing even more of him on your TV and movie screens very soon. Who knows — maybe Cyler will even play Dan again in a Sierra Burgess sequel. Anything is possible!