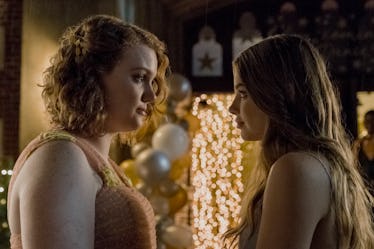 Fans Are Already Begging For A 'Sierra Burgess Is A Loser' Sequel
Aaron Epstein / Netflix
Netflix is currently dominating the teen rom-com department. After the success of movies like The Kissing Booth and To All the Boys I've Loved Before, the streaming service released the next big binge-worthy obsession on Friday, Sept. 7: Sierra Burgess Is a Loser. The high school love story follows an unconfident bookish marching band member (Shannon Purser) as she strikes up a phone relationship with a charming quarterback. The twist? He thinks he's romancing a popular queen bee. The adorable mistaken identity tale is a throwback delight, but will there be a Sierra Burgess is a Loser sequel? Fans are already crossing their fingers for a follow-up.
Warning: Some spoilers ahead if you have not seen Sierra Burgess Is a Loser. Unlike recent film fave To All the Boys I've Loved Before, Sierra Burgess is not adapted from a book — it's an original screenplay penned by writer Lindsey Beer. Netflix hasn't even given an official greenlight on To All the Boys I've Loved Before (and there's even a petition floating around, so you know the demand is out there), which means it might be a while before viewers get word on a Sierra Burgess' sequel fate. But that doesn't mean Beer isn't open to writing the romantic comedy's next chapter. When asked what Jamey's last name is by a curious Twitter user (it's never shared throughout the movie), Beer's reply offered up hope that a sequel might reveal that piece of information.
"I never gave Jamey a last name! But if fans vote on a last name, we will use the top voted name in the sequel if @netflix gives us one! Step one: vote. Step 2: harass @netflix for a sequel!" Lindsay wrote on Sept. 2.
Jamey is played by Noah Centineo in the movie, who skyrocketed to household name status thanks to — what else? — To All The Boys I've Loved Before, where he plays lovable lacrosse player Peter Kavinsky. He's got the nice guy thing going on in Sierra Burgess too — Jamey's also a good looking dude that defies jock stereotypes. But To All The Boys I've Loved Before ends with an openended cliffhanger. The film is also based on a trilogy of novels. Sierra Burgess Is a Loser has a pretty resolute conclusion without opening doors to further conflict, question marks, or unknowns (aside from that whole Jamey last name riddle). It would definitely be fun to see what way happens beyond its credit sequence because any storyline is possible right now. Sierra Burgess: The College Chronicles? Yes, please.
"I would say, do not let society define beauty. Do not let society define what you like or what you dislike. These are things that we should be figuring out for ourselves independently. That and love yourself," Noah Centineo responded when asked by TheYoungFolks which messages audiences should take away from watching Sierra Burgess Is a Loser.
Teen rom-coms about self-acceptance and letting go of judgment? Here's hoping there's more where that came from.
Sierra Burgess Is a Loser is currently streaming on Netflix.