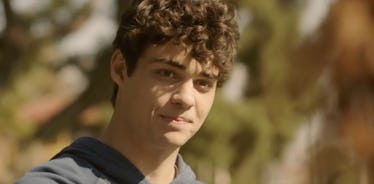 Noah Centineo Fans Will Want To Watch This 'Sierra Burgess Is A Loser' Scene On Repeat
Netflix/YouTube
Here's some news that was about as predictable as the sun rising this morning: The internet is freaking out over Noah Centineo's latest role. The breakout summer star plays lovable jock Jamey in the Netflix romantic comedy Sierra Burgess Is a Loser, which was released Friday, Sept. 7, and he's already almost topping his adorable performance in To All The Boys I've Loved Before. (I said almost. Don't come for me.) But there's one moment in particular that's attracting a lot of attention. Noah Centineo's shirtless scene in Sierra Burgess is a Loser has fans in a Twitter frenzy.
Sierra Burgess Is a Loser stars Shannon Purser (Barb from Stranger Things, Ethel from Riverdale) as a bookish high schooler who poses as a cheerleader named Veronica (Kristine Forseth) to get close to a popular quarterback over a series of intimate phone chats. Noah Centineo portrays Jamey, said quarterback, who appears to have it all going on on the outside. But he's really just as insecure and awkward as the next dude sometimes — as evidenced by his timid approach to taking a shrirtless selfie to impress Veronica (who's actually Sierra. Keep up, people!). Noah Centineo's charming nice guy act — as both Jamey and Peter in To All The Boys I've Loved Before — has catapulted him to dream boyfriend status. Of course, that cute selfie moment didn't hurt the campaign. Warning: Spoilers ahead for Sierra Burgess Is a Loser in case you haven't watched yet.
In case you were wondering, Noah himself can relate to Jamey's self-doubt struggle. He revealed to Vulture at the Sierra Burgess Is a Loser premiere:
Jamey has a scene where he's taking selfies of himself shirtless trying to get it right. He does it like six or seven times, and I've totally been there. That might be a generational thing, I think we all just want to put our best foot forward. But at the same time, I want to bring back proper intimacy, getting to know people.
Getting to know someone for who they truly are and not judging a book by its cover is at the core of Sierra Burgess. The Cyrano de Bergerac retelling finds Jamey falling for Sierra because of her mind, passions, and heart. Their relationship blooms out of more than just what he thinks she looks like on the outside.
"I really hope that people that watch it feel more empowered to be honest and authentic and learn to embrace themselves for who they are," Shannon Purser has said about the film's inspiring message.
And how does she feel about all the Noah Centineo fever that's been sweeping the nation?
"I don't know if he's really a jock, but he is very sensitive," Purser told Vanity Fair about her co-star's rise to stardom. "He has the soul of a poet, for sure . . . It is kind of funny to watch the whole world go crazy for him."
Sierra Burgesss Is a Loser is currently streaming on Netflix.