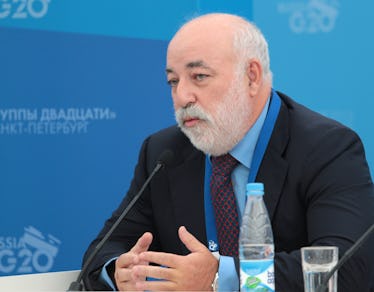 A Russian Businessman Allegedly Made Payments To Trump's Lawyer & This Story Just Keeps Going
Handout/Getty Images News/Getty Images
The trend of stories about President Donald Trump's longtime lawyer, Michael Cohen, and a limited liability company (LLC) used to pay Stormy Daniels $130,000 continues to develop. The latest details came on Tuesday, May 8, when multiple outlets reported that that Cohen's LLC reportedly received money from several companies, including one tied to a prominent Russian businessman, for unclear reasons. The stories give reason to ask the question: Who Is Viktor Vekselberg?
According to Forbes, the Ukrainian-born oligarch cited in the reports has an estimated net worth of $13.5 billion, making him one of the top 100 richest people in the world. Vekselberg is 61 years old, and owns the Renova Group, a Moscow-based conglomerate with a history of investing in metals, the energy sector, and other industries. Vekselberg is widely reported to have close ties to Russian President Vladimir Putin and, in April, he was among several Russian billionaires who were sanctioned by the U.S. government.
According to The New York Times, a company controlled by Vekselberg is the biggest client of Columbus Nova, a New York investment firm. On Tuesday, The Times reported that Columbus Nova allegedly paid $500,000 to Essential Consultants, Cohen's LLC. The Daily Beast reported the same on Tuesday, publishing a story that says it "confirmed" the existence of the payments from Columbus Nova.
In a statement provided to CNN, a lawyer for Columbus Nova denied that Vekselberg played a role in any alleged payments to Essential Consultants. The statement reads,
Columbus Nova is a management company solely owned and controlled by Americans. After the inauguration, the firm hired Michael Cohen as a business consultant regarding potential sources of capital and potential investments in real estate and other ventures. Reports today that Viktor Vekselberg used Columbus Nova as a conduit for payments to Michael Cohen are false. The claim that Viktor Vekselberg was involved or provided any funding for Columbus Nova's engagement of Michael Cohen is patently untrue.
In a comment to The Atlantic, Cohen's lawyer, Steve Ryan, appeared to merely dispute the characterization of an alleged payment. "I know you're using shorthand. But this was not a payment," Ryan reportedly said when asked if Essential Consultants was paid by Vekselberg.
Elite Daily reached out to the White House for comment on this alleged payment from Columbus Nova, but did not hear back at time of publication.
So, to recap: Columbus Nova, a firm linked to Russian billionaire Vekselberg, allegedly paid Essential Consultants, an LLC run by Cohen, which, in turn, paid $130,000 to adult film star Stormy Daniels.
The reports altogether begs questions about why President Trump's personal lawyer allegedly received money from a company connected to a Russian billionaire after the election, especially considering that the federal government is investigating ties between the Trump campaign and Russian interference in the election.
The claim about Cohen's LLC allegedly being paid by Vekselberg was first made by Michael Avenatti, the lawyer for Stormy Daniels, in an "executive summary" shared via Twitter on Tuesday. The summary also included claims about other well-known companies paying Essential Consultants, including AT&T.
"After significant investigation, we have discovered that Mr. Trump's [attorney] Mr. Cohen received approximately $500,000 in the [months] after the election from a company controlled by a Russian Oligarch with close ties to Mr. Putin," Avenatti tweeted on Tuesday. "These monies may have reimbursed the $130k payment."
Inside the summary, Avenatti provided more detail behind the claim. "Vekselberg and his cousin Mr. Andrew Intrater routed eight payments to Mr. Cohen through a company named Columbus Nova LLC beginning in January 2017 and continuing until at least August 2017," the summary read, according to The Daily Beast. According to CNN, Intrater is an American cousin of Vekselberg's who serves as the head of Columbus Nova. NBC News would later join the outlets who corroborated Avenatti's claim, reporting that it viewed financial records that support the findings of Stormy Daniels' lawyer.
The Daily Beast also reported that a source who confirmed the alleged payments told the outlet, "How the f*ck did Avenatti find out?"
On Wednesday morning, CNN reported that Vekselberg has already been questioned by Robert Mueller, the former FBI director and independent investigator in charge of a federal probe into Russian election interference. Mueller reportedly questioned both the Russian businessman and Intrater about alleged payments to Cohen and political donations made by Columbus Nova, CNN reports.
Among the other companies that were reported to have paid Cohen's LLC is AT&T. After the publishing reports, the company confirmed it made payments to Essential Consultants.
"Essential Consulting was one of several firms we engaged in early 2017 to provide insights into understanding the new administration," the company said in a statement, per CNBC's Christina Wilkie. "They did no legal or lobbying work for us, and the contract ended in December 2017."
AT&T's self-described efforts to seek "understanding" of the Trump administration comes at a time when the company is seeking approval from the Justice Department to complete a merger with Time Warner, which owns CNN.
In April, Michael Cohen's Manhattan office was raided by FBI agents and the Departments of Justice confirmed that he is under criminal investigation.
In the meantime, Cohen and Trump are being sued by Stormy Daniels to void an NDA and over defamation. Cohen has admitted to paying Daniels $130,000, but said it was unrelated to the presidential campaign; Trump said last week that he paid Cohen a reimbursement through a monthly retainer, unrelated to the campaign. That Daniels' lawyer has released information that has been corroborated by other news organizations is yet another sign that stories about Cohen's business dealings will keep on going.