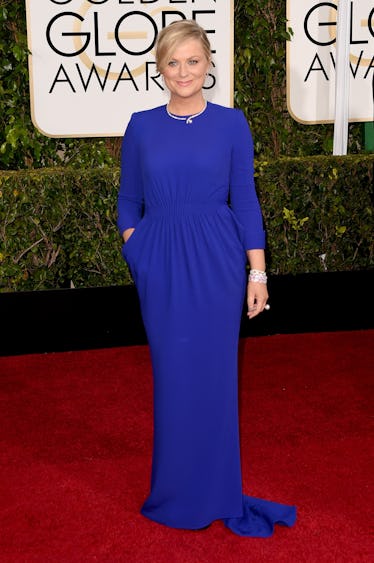 Amy Poehler's Golden Globes Date Is A Champion For Working Women, & We're So Impressed
Jason Merritt/TERM/Getty Images Entertainment/Getty Images
The 2018 Golden Globes are coming at an interesting time. Thanks to a year of political upheaval plus a renewed discussion about sexual harassment and assault in the entertainment industry, the awards show is politicized like never before. That's why it feels just so right that so many of the celebrity women who walked the red carpet on Jan. 7 used their star power to highlight awesome activists who are fighting for women's rights. Activists like Amy Poehler's date, Saru Jayaraman, who has spent more than a decade organizing and advocating for low wage workers, including policies to help women.
Jayaraman is best known as a co-founder of Restaurant Opportunity Centers United (ROC United), an organization that advocates for the frequently low-wage workers in the restaurant industry. And one of the organization's big pushes is against — you guessed it — sexual harassment. According to Glass Floor, a 2014 report from ROC United, the restaurant industry is the single largest source of sexual harassment charges filed with the Equal Opportunity Employment Commission (EEOC). Beyond that, working with restaurant workers is inherently gendered — more than 60 percent of tipped workers are female, and the number rises to about 70 percent when it comes to restaurant servers in particular.
So, as an article on ROC United's website pointed out in October — sexual harassment at work isn't just a Hollywood problem. In fact, for many women it can be so much worse. Which is why it's so great that Poehler brought a woman working to highlight the harassment victims who might not have the same opportunity and voice as the A-listers who are hitting tonight's red carpet.
It's an appropriate pick. The talk of the star-studded evening was the "Time's Up" campaign to fight sexual harassment and assault. Launched by a number of high-profile female celebrities in the days leading up to the awards show, the campaign will advocate for legislation combatting sexual harassment across industries, as well as create a legal defense fund for those who need it.
So, Poehler isn't the only one who is using her own fame to highlight the important work of others. She's not even the only one doing it tonight. Other notable actresses, including Michelle Williams, Laura Dern, Shailene Woodley, Meryl Streep, Emma Watson, and Emma Stone all brought activists doing amazing work to share in the glory of the red carpet. In a statement shared with Deadline, the activists invited wrote,
Too much of the recent press attention has been focused on perpetrators and does not adequately address the systematic nature of violence including the importance of race, ethnicity and economic status in sexual violence and other forms of violence against women. Our goal in attending the Golden Globes is to shift the focus back to survivors and on systemic, lasting solutions. ... It is our hope that in doing so, we will also help to broaden conversations about the connection to power, privilege and other systemic inequalities.
The female activists that were invited to the ceremony are just super inspiring, to boot. Laura Dern, for example, brought another advocate for low-wage working women: Monica Ramirez, the co-founder of Alianza Nacional de Campesinas, which works to end violence against women, particularly farmworkers. And Shailene Woodley brought a Native American activist and artist, Calina Lawrence, who works against racial injustice and in support of indigenous and environmental rights, among other issues (Lawrence was part of the protests at Standing Rock, as was Woodley, which makes the two a good fit for one another). And Emma Stone, appropriately, brought feminist icon Billie Jean King — the famous tennis player who she played in Battle of the Sexes.
Man, who would have thought that a bunch of beautiful, rich, famous celebrities could get outshined so epically? Still — I doubt anyone feels too upset about it. These ladies are worth paying attention to.