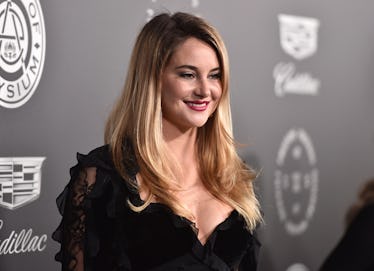 Shailene Woodley's Golden Globes Date Is A Native American Activist, & We're So Inspired
Alberto E. Rodriguez/Getty Images Entertainment/Getty Images
The entertainment industry has had a cloud cast over itself following a steady string of sexual misconduct allegations that have been dominating the headlines as of late. And Hollywood decided to honor the brave women (and men) that have come forward and shared their stories at the 2018 Golden Globe Awards. Many of the actresses elected to invite female activists to celebrate all that they do and bring awareness to the causes they work for. One of those actresses was Shailene Woodley, who brought a seriously impressive artist and activist as her date. So, who is Calina Lawrence?
Calina Lawrence recently graduated from the University of San Francisco with a B.A. in Performing Arts and Social Justice in December 2016, and with honors at that. Since graduating, she's put the social justice component of her degree to good use defending causes that are very close to home. According to the bio on her website, Lawrence is an enrolled member of the Suquamish Tribe and was raised within her Indigenous culture in the Pacific Northwest area of Washington State. The self-described "art-ivist" has recently been "traveling the country in advocacy for Native Treaty Rights and the 'Mni Wiconi' (Water is Life) movement led by the Standing Rock Sioux Tribe." Her biography on her site states:
Lawrence dedicates her artistry and energy to address: POC racial injustice, police brutality, mass-incarceration, gentrification, misrepresentation of Native Americans in education/mainstream United States media, climate injustice, blood quantum and enrollment issues, foster youth, suicide prevention, violence against women, and many other causes.
It's no surprise that Woodley decided to bring Lawerence as her date given her own significant involvement with the Standing Rock Sioux Tribe. Back in October 2016, Woodley was arrested for protesting the construction of the Dakota Access Pipeline at Standing Rock. She live-streamed her arrest (which included the arrests of 27 other protesters) on Facebook Live to bring awareness to the cause. The construction of the 1,172-mile pipeline (running through Montana, Canada, North Dakota, South Dakota, Iowa, and Illinois) poses a threat to the land and water resources of the 8,000 people who live on the Sioux reservation.
So naturally Woodley chose someone that cares just as deeply for the rights of Native Americans as she does. I mean after all, the girl got arrested while protesting. It was a seriously bold and amazing move for Woodley, making her one of the most inspiring young starlets working in Hollywood today. She's seriously dedicated to advocating for this cause, and having Lawrence as her date is the perfect way for her to do just that.
But Lawrence isn't just an activist. She's also a seriously talented musician and even has a single out. Her debut single "Alcatraz" was released in January 2017 and most recently released "Don't Count Me Out" in December 2017, which features indigenous vocalist/emcee Desirae Harp. Lawrence is also is set to put out her first ever album sometime this year, according to her website.
Lawerence literally has it all: She's an impassioned activist, gifted artist, and also is absolutely stunning. What a well-deserved red carpet appearance she made tonight, so props to you, Shailene Woodley. And props to all of the celebrities that came out in full force tonight with people that are doing work just as important as the actors work.
It's really great to see Hollywood's elite using their platform as public figures to draw attention to issues and causes that need more attention. The added value to the Globes this year was incredible, and I for one think other shows this season should follow suit. I'm looking at you, Academy Awards.