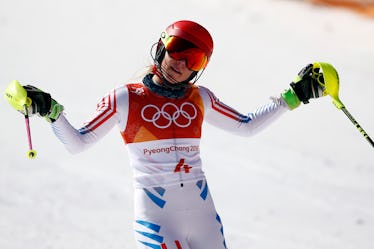 These Facts You Didn't Know About Mikaela Shiffrin Will Make You Love Her Even More
Giovanni Auletta/Agence Zoom/Getty Images Sport/Getty Images
If you've been tuning into the slalom events at the 2018 PyeongChang Winter Olympics, you've probably seen a few names pop up. One skiing star in particular is worth a deeper look. So, who is Mikaela Shiffrin? The Colorado native is arguably one of the coolest Olympians you'll ever virtually meet.
Shriffin — AKA Miki, Mika, Shiffy, or Shiffy 2 (her brother, apparently, is Shiffy 1) — is just launching her career at the age of 22. And already, thanks to her glorious ski skills (not to mention how lovable she is), girl's already got heaps of sponsors, giving her an estimated net worth of $5 million.
But don't be took quick to label Shiffrin "just a gold-medaling Olympian" (totally casual.) Here's what you should know about one of skiing's best athletes.
She's got some sweet skills outside of skiing.
"I am reasonable at playing guitar and piano," she tells NBC, in answers obtained by Elite Daily. "I don't have a terrible voice, although I certainly can't belt it out in an opera hall!" She adds: "I do a pretty good impersonation of Anna and all her different age voices in 'Do You Want to Build A Snowman' from Frozen."
She also says she's a decent unicycler and hair stylist, and adds "I am pretty good a juggling (sort of circus juggling, but with tennis balls or hackie sacks, not knifes or fireballs)."
Her musical appreciation extends beyond Frozen, though. Her training playlist includes the likes of "Footprints" by Sia, "Counting Stars" by One Republic, "Say My Name" by ODESZA, and "Daddy Lessons" by Beyoncé.
And it's understandable that Shiffrin would need to keep a good playlist up on tap, given how much she trains.
Shiffy's success is the result of hard work.
"People always seem to be surprised that we are constantly training, because we compete every season, weather it is an Olympic season or not," she tells NBC. "I start racing every season at the end of October, and the World Cup season goes until the middle of March, and after that I get a short break, and then I start in with training camps and my conditioning blocks."
Shiffy's life, year-round training and all, doesn't sound half bad. Apparently she gets about 10 hours of sleep a night, plus a nap on top of that.
But let's take a moment to appreciate her meal regimen. When she's indulging, she's certainly not half-assing it. Among her favorite indulgences, she favors pancakes, waffles, and Cinnamon Toast Crunch (who wouldn't?) as a meal. For snacks? Donuts. And dessert (no, those previous two categories don't count) might be chocolate cake, key lime pie, or ice cream. Or, who knows, maybe all three. Go big or go home, right?
And while the life of an elite athlete can be draining, to say the least, fortunately, Shiffrin's got a lot of support. "My parents taught me how to ski, and they have stayed quietly involved with my career since the beginning," Shiffrin tells NBC. "My mom still travels with me as one of my coaches and my dad spends a lot of time working through my schedule, setting up travel- flights, rental cars, all the logistics of the lifestyle. They have been instrumental in my success."
Her Olympic performance so far is pretty inspiring.
Even outside of the Olympics, Shiffy's got a great track record. Per NBC, as of September 2017, she'd scooped up three world championship gold medals, four world cup slalom titles. She's the first woman in 78 years to win three consecutive world titles in slalom, and her 41 world cup wins, per NBC, put her right behind fellow American Lindsey Vonn.
Shiffrin already had one gold medal in slalom from the 2014 Sochi Olympics, becoming the youngest athlete in history to do so. And she's added to her accolades in PyeongChang.
She pulled out another huge win this year. On Thursday, Feb. 15, she snagged a gold medal for her giant slalom race. But the next day, on Feb. 16, nerves seemed to get the best of her, and she got sick before the race. On Saturday, she wrote in an Instagram post of the fumbled Friday run, "After 5 days of schedule changes and waiting to race, and without the day between those races to reset and recharge, I wasn't able to manage it."
Shriffin's heart is clearly in the right place. "It's the Olympics, and for me that's about showing heart and passion as much as it is about medals," she continued in the Feb. 17 post. "So I wouldn't take back my emotions or excitement after the GS in order to have better shot at a SL medal too. You know, it's not necessarily the medalists who get the most out of the Olympics. It's those who are willing to strip down to nothing and bear their soul for their love of the game. That is so much greater than Gold, Silver, or Bronze."
Please excuse me while I sob.