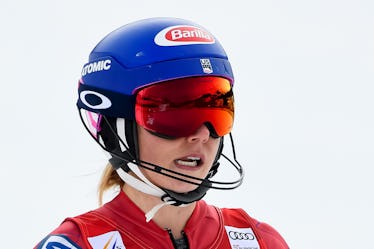 This Olympic Skier Thinks Her Life Is A Disney Movie & I Can't Agree More
Alain Grosclaude/Agence Zoom/Getty Images Sport/Getty Images
There are so many legendary alpine skiers from Lindsey Vonn to Ingemar Stenmark. But more recently, one of those people is Mikaela Shiffrin. Shiffrin is a two-time world champion and Olympic gold medalist who's slated to compete in the 2018 Winter Olympics in PyeongChang, South Korea. Aside from her worldly accomplishments, all of us are left trying to decipher one universal question: how old is Mikaela Shiffrin?
Shiffrin is a 22-year-old from Vail, Colorado. In 2014, at age 18, she became the youngest person to ever win an Olympic gold medal in slalom during the Sochi Olympics, and between 2013 and 2017, she's ranked among the top spots at the FIS World Cup Standings. One of her most notable highlights, however, is the fact that in 2017, Shiffrin became the first woman to win three consecutive slalom world titles in 78 years. That said, Shiffrin seems to be extremely capable of achieving the same successes in PyeongChang as she did in the Sochi Olympics — or even more.
To some, Shiffrin is "the best skier" they've ever seen.
In an interview with Reuters on Jan. 3, former Olympic gold medalist Bode Miller said Shiffrin was the "best ski racer" he's ever seen and that he expects her to take home gold at the PyeongChang games. He said, "I think she's maybe the best ski racer I've ever seen, male or female. She's so balanced, dynamic, intense and focused, so for me, I think she's got a chance in any event she skis in."
He added, "I would say it's likely she wins two (Olympic) golds, I would say an outside shot at five medals, and I think probably, at her best, maybe three or four of them are golds."
Barbara Cochran, the 1972 Olympic gold medalist in slalom, often watched Shiffrin ski during previous competitions in Vermont, according to The Washington Post. She told the publication that Shiffrin had a "tremendous" technique "from the get-go." She said, "She knew how to make the skis carve at a really young age, an age that others really couldn't figure out how to get that done. She just had a tremendous foundation of technique from the get-go."
But the pressure gets to Shiffrin sometimes.
According to NBC Olympics, Shiffrin often struggles with anxiety from the pressures she feels, which she says affected her during the 2016-2017 season. She said,
I've never really been the type of athlete that gets extremely nervous at the start or feels that kind of pressure and expectations from everyone else. And [during the 2016-17 season] I started to feel that, and it brought on quite a different form of nerves than I've ever dealt with.
On Feb. 6, Shiffrin also opened up to The Washington Post about her vulnerability and the fear she often feels when competing. She told the publication,
I get so nervous; I was throwing up last year. It's like, the races I'm supposed to win, I worry about what happens if I don't. Who am I letting down? My family? The media? What's the media going to say if I don't win? I was listening, and I had never really listened to those things before.
But Shiffrin said she has a story to tell, nonetheless.
Though the gold medalist's nerves get the best of her at times, she told NBC Olympics that her journey would make a great Disney movie. She said,
If everyone was in my head, it would be the most epic, inspirational movie ever. I'm constantly thinking about how my life would fit into a really inspirational Disney movie scene or something.
As promising as Shiffrin's career has been, I'm liking how that sounds. Just imagine the gold medalist gliding over ski slopes, doing epic tosses and turns, and claiming the medals she so deserves. Nice, right? I don't know about you, but I'll be speaking it into existence until the games start on Feb. 9.
To learn more, visit teamusa.org. The Winter Olympics will air live, starting Feb. 8.