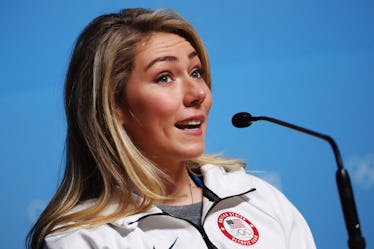 Mikaela Shiffrin's Net Worth Will Make You Want To Start Training For The Olympics ASAP
Ker Robertson/Getty Images Sport/Getty Images
You know her. You love her. You want to be as rich as her. American Olympic alpine skier Mikaela Shiffrin is not only killing it on the slopes, but she's also killing it at the bank. Mikaela Shiffrin's net worth is skyrocketing as her fame and exposure in the 2018 Winter Olympics continues, and she's just getting started thanks to her young age. Between you and me, I'd consider getting some mountain training in stat.
Shiffrin is competing at the 2018 Winter Games this year in PyeongChang, South Korea, where her race has been delayed multiple times due to bad weather. She's currently scheduled to ski at 5 p.m. EST on Wednesday, Feb. 14. During the 2014 Winter Games in Sochi, Shiffrin came in fifth place in the giant slalom competition and first in the slalom competition. This year, she is poised to take the gold again. Despite being only 22, she's already had the career of a lifetime.
According to Heavy, her current endorsement deals are earning her up to at least 3 million, and her net worth is close to 5 million. According to Sports Business Daily, her non-endemic sponsors include Red Bull, Barilla pasta, Longines watches and Oakley sunglasses. She also has long-term agreements with ski equipment companies Atomic, Leki, and Reusch.
The head of sports, entertainment, and communications at United Entertainment Group, Erin Weinberg, told the publication,
All of the things we look for, as marketers, in an athlete to potentially be paired with a brand, she has. She is talented, she's got a great attitude, she's well-spoken, she's smart, she's attractive and she performs under pressure at a very young age.
Many publications compare Shiffrin and her career to skier Lindsey Vonn, who had an equally promising and successful Olympic career, but had to drop out of the games due to injury. According to Forbes, Vonn maneuvered her way to making 3 million a year through endorsement deals, and Shiffrin is primed to surpass that. Reports say Shiffrin could pocket a $25,000 bonus from the U.S. Olympic Committee for winning a gold medal, and Forbes thinks she could earn anywhere from 30 to 50 million over the course of her career, assuming she never suffers an injury and continues to light the slopes on fire.
Despite her intense training schedule, all of the sacrifices she's made along the way, and the pressure of a literal nation, Shiffrin is able to keep a cool head. She told The New York Times,
I know that in the United States, the Olympics are the only time millions and millions of people watch ski racing, so it means a lot to the sport and the country. So I understand the significance, but at the same time, it's not the end of the world... I will want to win. But the result of the race will not motivate me. I can honestly say that I am motivated by improvement, not results. That's a core principle.
She also reflected on her personal, seemingly fast-track journey to the Olympics, adding,
I'm no superhero, and how I got here is a crazy path that probably could not be replicated. But it doesn't have to be replicated. I may have become a world champion quicker than most, but people should look at me and realize there are all kinds of ways to get where you want to go.
She added, "Because we didn't plan it. We just did it."
Erin Jackson is an inline skating world medalist and roller derby MVP. She dreamed of skating in the Olympics, but to do that, she had to get on ice. She took her first steps on a long-track course in 2016 and started training professionally in September 2017. Four months later, she qualified for the Olympic Winter Games. Check out Elite Daily Insights' video on Jackson's incredible story: