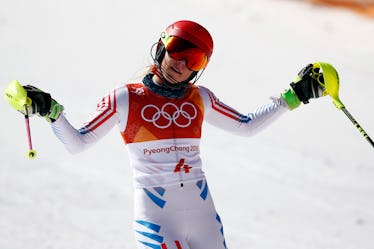 Mikaela Shiffrin Didn't Take Home A Medal After The Slalom & This Might Be Why
Giovanni Auletta/Agence Zoom/Getty Images Sport/Getty Images
Slalom skiing is inarguably one of my top favorite Winter Olympics events. It's super fast and extremely straightforward — and there are so many beyond-cool athletes that do it. And among the many talented and renowned Olympic slalom skiers is Mikaela Shiffrin of the U.S., who has the vigorousness and badass composure that all of us aspire have. We're pretty sad to hear that Mika ela Shriffin's slalom race didn't earn a medal, but it seems like she's taking it like a champ.
On Friday, Feb. 16 (PyeongChang time), Shriffin surprised everyone watching the Women's slalom final by getting sick before her race, and ultimately finishing in fourth place, per USA Today Sports. Nobody was initially sure why Shriffin got sick or why she didn't place, and it turns out that nerves were the culprit. After saying it "felt like a virus" to NBC, Shriffin admitted that she was nervous.
She talked about the episode, and said, "No, that was just nerves," USA Today Sports reports. When asked about getting sick before a race, she stated, "That's never ideal. But I dealt with that all season long last year. So I thought when that actually happened, 'Huh. OK, well, I've dealt with this before. I'm fine.'"
Shiffrin continued about her race, and said,
But when I ended up skiing the course, I skied it very, very conservative, and that's not something that deserves to win a medal.
Shriffin had previously won gold in the Sochi Winter Olympics in 2014. She's been totally crushing it this winter, and already took home a gold medal in the giant slalom on Thursday, Feb. 15. During that race, Shriffin trailed first place by .2 seconds after her first run. However, she ended with a run that placed her .39 seconds in front of Norwegian racer Ragnhild Mowinckel, who ultimately ended up taking second place. Although it was a relatively tight race, it definitely had me psyched to see Shriffin continue to shred up the slopes.
Even though training and skills largely contribute to Shriffin's athletic successes, the skier reportedly gets 10 hours of sleep every single night, which, TBH, is my dream come true... for real. Apparently, Shriffin also manages to take naps throughout the day, and I'm honestly just wondering how she finds so much time to catch all those z's in her hella busy schedule. Maybe I should take notes from her.
Per ESPN, Shiffrin was super exhausted after her giant slalom race, which was followed by a slew of interviews, other day-to-day Olympic commitments, and then the medal ceremony, which didn't start until 8 p.m. That night, Shriffin ended up going to bed at 10 p.m., which although is kind of early for many of us non-Olympians, it's totally unusual for her. The skier told NBC that although her thrown-off sleep schedule was "certainly not normal preparation," she kind of expected things to be a little different, since it's the Olympics, when everything is a little chaotic. In later interviews, she made sure to reiterate that her slightly-later-bedtime wasn't the reason why she didn't place in her latest race, as it was mostly due to the fact she was nervous.
Even though Shriffin defied our expectations, got boggled down by nerves, and ended up not winning gold, I'm personally still keeping an eye out for her, as she continues her racing career. Hopefully her nerves won't get the best of her, but it happens to all of us sometimes. With Shriffin's level of determination and her extreme talent, here's no doubt in my mind that she'll be back, killing it on the slopes in no time.