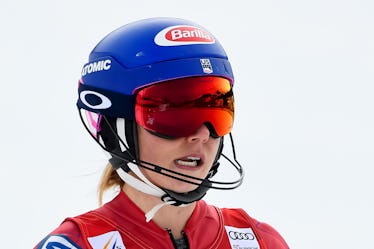 Mikaela Shiffrin's Epic Run Landed Her A Gold Medal In PyeongChang
Alain Grosclaude/Agence Zoom/Getty Images Sport/Getty Images
Following her gold medal win in the slalom at the 2014 Sochi Winter Olympics, Mikaela Shiffrin geared up for more gold medals at the PyeongChang Winter Games. The 22-year old alpine skier is truly a force to be reckoned with, but she was scheduled to take on the giants slalom first, an event in which her competition is even more fierce. Well, after all the suspense, Mikaela Shiffrin did win a gold medal in the giant slalom, and it could just be the beginning of a remarkable run.
On Thursday, Feb. 15, the Colorado native notched a come-from-behind victory at the Yongpyong Alpine Center. After the first of her two runs, Shiffrin trailed first place by .2 seconds. Her final run, however, put her above the competition, and Shiffrin finished .39 seconds ahead of the silver medalist, Norway's Ragnhild Mowinckel.
With her win in giant slalom, Shiffrin has secured the first of four possible gold medals she could win in PyeongChang. Her second gold medal could come on Friday, Feb. 16 (Thursday night, U.S. time), when she will attempt to defend her 2014 win in slalom.
She will also compete in the downhill and combined skiing events to round out her schedule in PyeongChang.
Watch her gold-medal winning run below:
Who Is Mikaela Shiffrin?
Hailing from Vail, Colorado, Shiffrin clearly knows her way around a winter wonderland. Not only is she the first woman to snag three consecutive slalom world titles in 78 years, Shiffrin also made history by being the youngest person to win ever win a gold medal in slalom at the age of 18 while competing in the 2014 Sochi Winter Olympics. Once securing the gold, she came in fifth place in giant slalom during the Winter Games.
Human being goals.
Also yes, slalom and giant slalom are two different categories. I'm constantly learning even in 2018.
I'm not Shiffrin's only fan. Other Olympians have praised the free skier's immense talent. During a Jan. 3 interview with Reuters Olympic gold medalist Bode Miller particularly noted Shiffrin's otherworldly skills. He also expressed his confidence that the free skier would be going home with a few Olympic medals around her neck.
He said,
I think she's maybe the best ski racer I've ever seen, male or female. She's so balanced, dynamic, intense and focused, so for me, I think she's got a chance in any event she skis in. I would say it's likely she wins two Olympic golds, I would say an outside shot at five medals, and I think probably, at her best, maybe three or four of them are golds.
Yes to Shiffrin crushing the competition, and hell yes to Miller's emphasis on gender equality. I am here for the 2018 Winter Olympics.
After securing such amazing victories in 2014, it's understandable if Shiffrin feels a little bit of pressure to impress this coming Olympic season. While speaking to The Washington Post, Shiffrin opened up about the pressures of living up to the media hype and her fear of letting down her friends and family, a worry that she had never been faced with until her widely acknowledged achievements in slalom.
She said,
I get so nervous; I was throwing up last year. It's like, the races I'm supposed to win, I worry about what happens if I don't. Who am I letting down? My family? The media? What's the media going to say if I don't win? I was listening, and I had never really listened to those things before. It's definitely more pressure for me to repeat than to do something new for the first time.
She also spoke to NBC Olympics about her nerves surrounding the 2016-2017 winter season, and how she approaches her anxiety issues.
She said,
I've never really been the type of athlete that gets extremely nervous at the start or feels that kind of pressure and expectations from everyone else. And during the 2016-17 season I started to feel that, and it brought on quite a different form of nerves than I've ever dealt with. I just try to keep telling myself that when I feel like people are talking about me, and I just want them to stop.
Shiffrin also revealed where she keeps her Olympic gold medal - stuffed in the back of her sock drawer. Such a millennial move.
Regardless of the outcome, Shiffrin has proved that well - she doesn't need to prove anything. When was the last time you won an Olympic gold medal? Yeah, that's what I thought.
Continue to slay Mikaela. We'll all be be cheering you on!