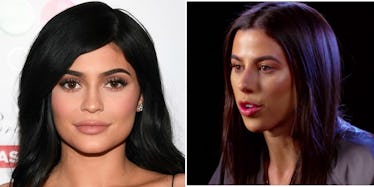 Here's Where Kylie & Her Ex-Assistant Victoria Stand Now
Ethan Miller/Getty Images/YouTube
As fascinating as the Kardashian-Jenners are, what's more interesting to me are the people behind the scenes who are making it all happen. I'm talking about the direct assistants to each of the sisters. Even though it may seem at first glance to be all about scheduling appointments and getting coffee, in reality, it's a big job to make these moguls' lives run smoothly. Kylie Jenner is one of the most famous and busiest (not to mention richest) celebrities at the moment. Balancing running a makeup empire with being a mom to her daughter Stormi — all while starring on one of the biggest reality shows on TV — is a lot of work. So, who is Kylie Jenner's assistant who helps her get it all done? Well, the answer isn't so simple. Jenner's last-known assistant was Victoria Villarroel, but she quit in April 2019. Here's why she's still Jenner's go-to girl.
Villarroel started out as an intern at Kris Jenner's powerhouse company, Jenner Communications, in 2012, before being promoted to Kylie's assistant around 2014. Villarroel revealed how she managed to make the cut in an April 2019 episode of the Girl Cult podcast. "I found this girl named Jen on Instagram randomly," Villarroel said. "She posted a photo of her interns at the office and it seemed like fun. I was like, 'I want to be an intern here!' So I messaged her on Instagram, and she didn't hit me back. She had a personal blog, and I clicked on it, and she had an email. I emailed her, and she didn't email me back. So I tried again, and then, boom, she emailed me back."
By December 2016, Villarroel was describing life as Kylie's personal assistant as "work, but … fun." And her Instagram backed that up. While working for Jenner, Villarroel was practically a part-time Instagram influencer. Her account was (and is) incredible. It's full of unbelievable travel photos, videos from A-list parties, and (of course) lots of selfies, which is to be expected from Kylie Jenner's assistant.
Villarroel wasn't following Jenner around the world just to do her grunt work, though. She seemed to have a great personal relationship with Jenner. The two often posed together for photos, Jenner swatched Villarroel's arm for Kylie Cosmetics products, and the two once did a holiday "Never Have I Ever" video with Jordyn Woods.
They were so close, Jenner liked one of Villarroel's photos on Jan. 10, 2018, in the midst of her social media break while pregnant with Stormi (she barely posted anything on her 'Gram besides Kylie Cosmetics promotions at the time).
Despite how close the pair became, however, Villarroel ultimately decided to quit being Jenner's assistant around April 2019. "After five years, it was a long time," she said on the Girl Cult podcast. "I learned so much and we have such a great relationship, I really do love her with all my heart. It was a hard decision … But as a person, you just want to grow. And when you see that person be so successful, you're like, 'I want to be a boss a** bitch. I want to kill it.' I just don't know what I'm going to do."
But fans didn't buy that Villarroel split with Jenner was amicable, with rumors flying in early 2020 that she quit to become an influencer herself. But Villarroel shut those rumors down.
In a Jan. 14 Instagram Story post, Villarroel explained her time with Jenner Communications had simply run its course. "Don't believe everything you read please!" she wrote. "This story is false. I worked with Kylie for 5 years and she became one of my closest friends. We both decided it was time to grow without each other professionally about a year ago. She's still one of my best friends and our relationship has only gotten stronger. Now let's focus our time and energy on other things! A lot is happening in the world right now."
Villarroel and Jenner's Instagram interactions after Villarroel corroborate that story. Villarroel even posted a photo hanging out with Jenner in a car on Jan. 13, 2020, long after she quit her position as Jenner's assistant.
So, there you have it. Villarroel was Jenner's assistant for five years, but after she quit in April 2019, it's unclear who replaced her. Knowing Jenner, we'll probably see her new assistant pop up in some glamorous IG photos down the line once they've settled into their new role.
This article was originally published on