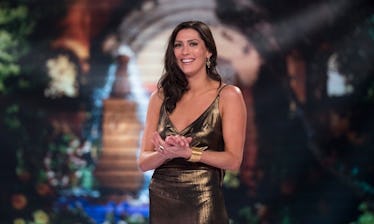 There's A Contestant On 'The Bachelorette' That Has "A Past" With Becca & I'm Intrigued
ABC
Big news, people. Chris Harrison just announced this season's contestants for The Bachelorette via Facebook Live. In case you missed the million and one stories and statuses that seem to be clogging up any and all of my news feeds, this season's bachelorette is the beautiful Becca Kufrin, and her history with one particular dude named Jake is raising a lot of questions. Who is Jake from The Bachelorette, you ask? Let me give you the scoop.
Well, for starters, Jake is a 29-year-old marketing consultant. He's hot (duh, he's on The Bachelorette), has a great head of chestnut brown hair and a mega-watt smile, and, based on the one picture I saw of him, pretty much seems like an all-around good dude. But here's the catch: Jake is from Minneapolis, Minn. Sound familiar? Thought so.
For those of you who aren't quite keeping up, aside from being the hosts of this past Super Bowl, Minneapolis also happens to be Becca's hometown. And, you guessed it... Jake has a history with Becca. Gasp! "Jake and Becca have a past," announced Harrison. "Now, they have different versions of this past. You'll learn more about that, of course, as the show goes on." Ugh, Chris! You're really going to leave us hanging with just that? Give a girl a break!
Since we have no more info here, I guess we're left with no choice but to speculate on the details of their past. (I know I'm falling right into Chris Harrison's trap and, you know what? I don't even care!)
Obviously, my best guess is that they dated, had a messy breakup, and are now left with two differing sides of the breakup story. I mean, as my dad always says, there's three sides to every story: his side, her side, and the truth. Hopefully this season will help us get to the bottom of it.
If that really is the case though, I can't help but wonder how having an ex on the show will affect Becca's decision-making! Is she going to automatically kick him out on the first round because she's still mad about their sordid past? Is she going to favor him because she'll always have a soft spot for him at the bottom of her heart? Only time shall tell.
And, hey, he could also just be a random dude from her high school who had a crush on her even though she barely acknowledged his existence. But how romantic would it be if he signed up for The Bachelorette because he knew it was his one chance to actually capture her attention? I know, I know, I know... my imagination is running wild here. But can you blame me for my need to know the deets here?!
Whatever the story is behind this dude, I really hope Becca comes out of this season with her one true love. If anyone deserves it, it's her. If you didn't keep up with her season of The Bachelor and aren't quite sure why she, in particular, is so deserving of love, allow me to explain. At the end of the most recent season of The Bachelor, Arie (who TBH was the living worst) chose Becca. She was over the moon. They seemed to be happy and in love.
Then he changed his mind and decided to let her know that he changed his mind by dumping her on live television. See? I told you he was the worst. America watched with total discomfort as she sobbed and he refused to leave her alone even though she repeatedly asked him to please leave her alone, and in the end, she actually managed to forgive him. So, yeah, she's a class act and she absolutely deserves to find true love, whether it be Jake or another dude on the show.
Check out the "Best of Elite Daily" stream in the Bustle App for more stories just like this!