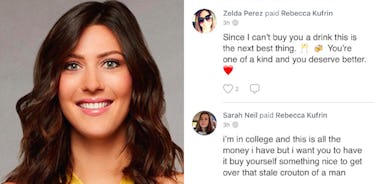 People Are Venmoing 'Bachelor' Star Becca K. After That Horrible Finale & It's Everything
ABC/Venmo
The season finale of The Bachelor aired on Monday, March 5, and I don't think Bachelor Nation has ever been more angry about the way a Bachelor finale played out. Arie Luyendyk Jr. proposed to Becca Kufrin, leaving Lauren Burnham heartbroken. But just weeks after getting engaged, Arie decided to dump Becca and try and get Lauren back. The entire breakup was filmed and aired during the last hour of the finale, and it was clear Becca was completely blindsided by the whole thing. Following that disaster Arie and ABC put her through, people are Venmoing Bachelor star Becca K. in order to fund her next bottle(s) of wine because homegirl deserves to treat. Her. Self.
Most people who watched the Bachelor season finale feel ABC wrongly emotionally exploited Becca for a ratings bump. Chris Harrison kept saying throughout the episode that what they were going to air during the last hour was completely unedited footage — a first in reality TV history, according to him. Was being the first reality TV show to air unedited footage worth putting Becca through that much of a wringer? ABC might think so, but fans (who are possibly ex-fans now) of The Bachelor definitely do not.
Becca Kufrin is getting a flood of Venmo donations following her painful public breakup with Arie Luyendyk Jr., and it's the positive, supportive sh*t I like to see!
People are Venmoing Becca and adding uplifting messages in the hopes of making her feel better after the disaster ABC put her through. Their Venmo captions say things like, "Cheers to dodging a bullet," "He's trash girl u can do better," "Stay strong, girl. Drink, drink, drink to forget and know that America is behind you," and my personal favorite, "I'm in college and this is all the money I have but I want you to have it buy yourself something nice to get over that stale crouton of a man."
People on Venmo have become the internet equivalent of a woman's best friends coming over with wine and ice cream to comfort her after a breakup.
The internet is basically covering Becca's bar tabs for the foreseeable future.
A lot of them are Venmoing her and asking that she drag him during the second part of the finale airing on Tuesday, March 6. (Yes, there's still more finale to watch. It's a cruel world we live in.)
One Venmo user called out ABC for the way it decided to treat Becca, calling it an "affront to women globally."
The user said, "Tonight was an affront to women, globally. I was horrified by how shamelessly you were exploited emotionally and so [publicly]. I'm angry at ABC Network and am putting 'my money where my mouth is' as I wait for ABC to address this assault on your person which they profited from. You have only good things coming in your future."
She's not wrong. Many people feel ABC seriously overstepped by airing all of the footage of Arie and Becca's breakup. Even Bachelor alums think so.
The unedited footage seemed relentlessly unending. Just when you thought there couldn't possibly be anything more to show, Chris Harrison would reveal there was more to watch after the commercial break. When there was finally no more footage of the breakup to share, Becca actually made an appearance on the live segment of the finale and talked briefly about how it all felt. She revealed she hadn't spoken a word to or seen Arie since the breakup and wasn't sure if she wanted to. But of course, The Bachelor is going to make her see him during the second part of the finale airing on Tuesday, March 6. The episode starts at 8 p.m. on ABC, but watch at your own risk. And Becca, please take this time to do whatever kind of self-care you need. Just treat yourself, girl. You deserve it.