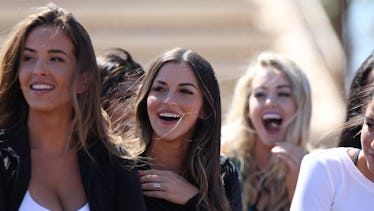 Arie Sent Home Some Major Fan-Favorites On Week 6 Of 'The Bachelor'
ABC
IT'S WEEK 6 AND THINGS ARE GETTING REAL, GUYS. Arie's season of The Bachelor has been chugging right along, and we're getting down to the good stuff. This week, Arie made some big strides with a few of the women, but also sent some major players home. Not going to lie — it was dramatic (obvi). Who went home during Week 6 of The Bachelor? You better sit down, this may be shocking. Caution: Spoilers below.
This week, viewers said goodbye to Krystal, Jenna, and Chelsea. Yes, there are definitely some surprising names in there, but all the details are below.
Let's rewind to the beginning. The contestant's week in Paris seemed like a whirlwind of romance and saying, "Bonjour!" Week 6 was broken down like this: Two one-on-one dates, a group date, and an infamous two-on-one date. In other words: V dramatic.
Let's start slow. Arie took Lauren B. on a romantic Paris date that he was "saving" for her. May I just add that Lauren B. is the last standing Lauren on this season. Congrats, girl. The date started out a little bit bumpy. The first half was almost complete silence between the two.
Arie pointed out a big wheel of cheese to which she responded, "Wow." It was awkward. She wasn't opening up and Arie started fearing that she didn't like him. However, they pushed through and has some deeper conversations about past relationships and what they're looking for in a partner. The second portion of the date resulted in Lauren getting the rose... and a steamy make out session with Arie.
Next up was the group date to the Moulin Rouge with Bekah, Seinne, Tia, Jenna, Chelsea, and Becca. Although Arie said the date was "for the girls," I couldn't help but feel like it was for him. If you haven't seen anything beyond the movie Moulin Rouge, it's a place where women perform dances while scantily clad in glitzy bras, feather headdresses, and other extreme costumes.
Some of the women made the best of it and tried to have a good time. Others, like Tia, felt understandably uncomfortable by the whole thing.
All the girls survived the performance, but Bekah definitely shined with her confidence. She ended up receiving the date rose, being chosen to perform with Arie on stage, and looked like she had the time of her life doing it.
Then, the drama was served. Drum roll, please. The much anticipated two-on-one date between the sweet and crunchy Kendall versus the "villain" of this season, Hurricane Krystal. Arie was prepared for full-on awkwardness, which is very typical for two-on-one dates.
The three of them had to navigate through a maze, much like how Arie is blindly navigating his way through this experience.
Krystal and Arie then had a long talk about their rocky week in Fort Lauderdale when Krystal pouted and didn't finish the group date. Understatement of the season: It was bad.
No one could wrap their head around Krystal moving on after that. Arie explained himself to People by blogging,
The thing about love is it's not always easy. It's not all exotic dates and romantic one-on-ones and sunsets. She told me she was stressed and made a mistake and got angry. I've made mistakes and been upset about things I shouldn't have been upset about. We all do that, it's human. Was it a red flag for me personally? Yes, totally. I still, to this day, see the events very differently from her. The choice to not join the cocktail party was pretty immature and irrational. But the connection Krystal and I had that first week in Scottsdale was real and I wasn't ready to throw it away just because she was having a hard week. That didn't seem fair because we've all had irrational blow-ups before.
WHATEVER, ARIE. Anyways, Arie did get a chance to delve into his and Kendall's relationship. If this date proved anything it's that Kendall is kind and wise AF.
Luckily, that sparkled through for Arie, despite his and Krystal's established relationship. He gave Kendall the rose and Krystal left with a weird handshake from Arie and her tail between her legs.
Finally, Jaqueline gets a one-on-one. To be perfectly honest, I had no idea who Jaqueline was at this point. She and Arie were able to connect and she walked away with the rose. She seems smart and nice so I'm OK with this.
At the rose ceremony, fans said goodbye to Jenna and Chelsea. Jenna didn't get a ton of camera time, but it was surprising that Chelsea was sent packing. She received the first impression rose of the season and remained one of the front-runners this entire time. Unfortunately, their relationship wasn't developing fast enough, and she has a child to get home to.
To recap: Week 6, viewers said goodbye to Krystal, Jenna, and Chelsea. Bye, ladies, maybe we'll see you in Paradise.
Check out the entire Gen Why series and other videos on Facebook and the Bustle app across Apple TV, Roku, and Amazon Fire TV.