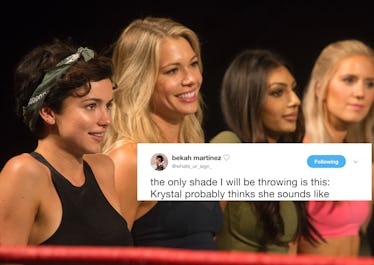 Bekah From 'The Bachelor' Threw Shade At Krystal On Twitter After That Bowling Scene
ABC/Paul Hebert
If you haven't kept up with the social media of The Bachelor Season 22 star Bekah Martinez, you're truly missing out on a treat. The 22-year-old expertly pulls off being both witty and sarcastic in her live tweets, and if you have mixed feelings about her TV persona, scrolling through Bekah's Twitter may help you warm up to her. Following Week 5's bowling group date, Bekah's tweets about Krystal on The Bachelor danced a perfect line between being shady and reminding us that we can't take reality TV too seriously. Get this girl on a Bachelor spinoff ASAP!
Although season "villain" Krystal was on the winning team in the women's bowling competition, she threw a bit of a hissy fit when Arie decided that both teams were invited to the night portion of the group date. Krystal decided she wouldn't join the other women in the evening, but still showed up at the scene right as Bekah was delivering a top-notch impersonation of Krystal to the group. Before the rose ceremony, the L.A. nanny also confronted Krystal about why she was still in the game if she expressed such unhappiness with Arie's actions.
So, to sum it up: Yes, the 22-year-old is preaching about what's right and wrong to a 29-year-old, one of the two oldest contestants left on the show.
Although each tweet from Bekah is a blessing, she seldom sends out posts. She alluded to this practice of "less is more" when she lightly poked fun at her clash with Krystal and referenced her impression of her:
Some of her followers praised her for pointing out what we were all thinking, while others fell back on using Bekah's age as an excuse for finding her immature.
Bekah's clapback at Krystal wasn't even the highlight of Bekah's responses to the episode. Those hating on Bekah's Krystal comments must have played the age card again, leading to Bekah's reminder that people need to call others out on their BS regardless of age.
I'll be the first to admit that I don't believe a 22-year-old would have a successful relationship with a 36-year-old. Plus, Arie is clearly way too boring for Bekah in the long run. He's all about his grandpa cardigans and early bedtime, so I'm not entirely convinced that he won't run off with one of the old ladies from the end of the episode.
It'd be the most dramatic finale in Bachelor history!
However, a person's willingness to confront someone shouldn't have anything to do with age. Bekah made the strong point that it's in her personality to be direct with someone, and Krystal happened to receive the brunt of that contact.
Even when Bekah's intense one-on-one confrontation of Krystal aired, Bekah chose to focus on humor rather than specific shade.
Showing why she's my new social media icon, Bekah briefly turned serious, admitting that she wasn't exactly proud of how she imitated Krystal on the show. It just goes to show that so many reactions on reality TV come from the the heat of the moment and that the contestants don't necessarily think things through.
Also, I'm not saying that Bekah's currently at the stage of joking about how old her ex is, but...
Oh, Bekah, you crack me up.
As past Bachelor "villains" have addressed, manipulative editing and having little control over their own situations often produces excessive actions from innocent-meaning people. No one but the other contestants can truly attest to Krystal's behavior, and while her initial shady tweet seemed a wee bit harsh, Bekah showed some signs of moving well past the Krystal drama. Of course, all bets are off for the "Women Tell All" special at the end of the season.
Season 22 of The Bachelor airs at 8 p.m. ET, Mondays on ABC.