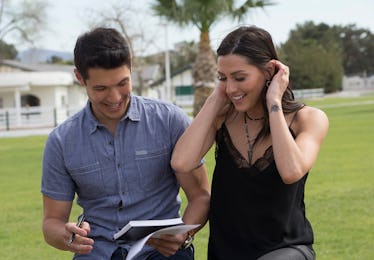 Here Are The 3 Guys Becca Sent Packing On 'The Bachelorette' Week 5
ABC/Paul Hebert
Man, talk about a dramatic episode of The Bachelorette. After weeks of tension (and one trip to the hospital), the David-Jordan feud finally came to a head in a brutal two-on-one date with Becca, and things got awkward fast. Did these two manage to survive the two-on-one date curse? Who went home on The Bachelorette Week 5? Becca sent three guys packing this week, which means that there are now only nine men vying for her heart.
At this point, Jordan and David's feud has taken up as much air time as the Tia-Colton-Becca love triangle, so I was pretty happy to see that the producers (and Becca) were ready to bring it to an end with a two-on-one date. And who doesn't like a good two-on-one? They're always super entertaining, and at the end, the Bachelorette (usually) sends home two guys that Bachelor Nation didn't like anyways. It's a win-win for everyone.
In Week 5, Becca and the gang traveled to Las Vegas, so the two-on-one took place in "The Valley of Fire" (an apt name). During the date, David and Jordan spared no opportunity to trash talk the other. "Jordan is an idiot. I can't wait to send this clown home," said David. "David is not a distraction, David is not an intimidation," countered Jordan. You know, because trash talking your rival on a two-on-one always works out great.
During the entire date, Becca seemed totally over David and Jordan's BS, and when things escalated, she was not about it. As Jordan was walking around telling David that he's "worse than Arie" — how dare he — and David told Becca that Jordan would be "settling" to be with her, Becca pretty much sat there silently and rolled her eyes, which is exactly what I would do in that situation. At one point, she even expressed her annoyance, saying:
I feel like I'm back in sixth grade, and this entire day has been not only frustrating, but it's taking away from our conversation and from our conversation and getting to know you guys and having you know me. And I'm just going to say this, once again, this is frustrating, this is annoying, this is petty.
Ultimately, Becca's frustration boiled over, and she sent David packing. Later that night, Becca decided that she was over Jordan's non-stop model talk, and she sent him home, too. I'm pretty sure that Bachelor Nation breathed a large sigh of relief when these two finally hit the road.
But David and Jordan weren't the only eliminations on Week 5 of The Bachelorette. During the group date, the guys traveled to Wayne Newton's mansion and learned how to serenade Becca. Each dude had to write and perform his own lyrics to "Danke Schoen," Newton's famous song, and some of them were great. If all else fails, Chris and Garrett may have a musical career in their future.
However, one guy didn't make a huge impression: John, the 28-year-old software engineer (Venmo guy). John's song got lost in the sea of Bachelorette dudes, and can you blame him? Competing with nine other guys on a group date can be pretty intimidating.
John was pretty much one of those classic "Goes home during Week 5 because no one really knows who he is" guys, so it's not like Becca axed a front-runner. But you know what? The Bachelorette needs reliable, normal guys like John. Not everyone can be a sh*t starter like Jordan or a beautiful ex-NFL player like Colton.
As soon as Becca made the cut, Bachelor Nation took to Twitter to express their sadness about John's departure.
I guess what happens in Vegas doesn't stay in Vegas, does it?