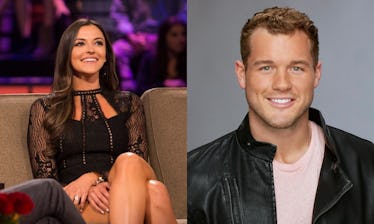 These Tweets About Colton & Tia Show Bachelor Nation Is Completely Torn
ABC
Welcome back to the Becca/Colton/Tia chronicles, or as it's also known as — The Bachelorette. The saga all began on last Monday's episode when Colton confessed to Becca that he and Tia (Arie's season, Weiner, final four, Raven's friend — ring a bell?) had a thing prior to his time on the show. Becca was rightfully shook and nearly didn't give him a rose. But Tia showed up on tonight's installment and got the opportunity to tell her side of the story. And these tweets about Tia and Colton show that that Bachelor Nation is still scratching their heads about the whole thing.
Becca was thrown for a total loop in the second episode. Discovering that a guy you're into has dated your friend is never something you want to hear. But she ultimately decided to keep Colton around anyway since she felt a spark between them and was "impressed" by his charity work. Becca explained in her People blog following the episode:
Going into my second rose ceremony, I was overcome with emotion and really questioning if I was cutout to handle what it means to be the Bachelorette. I was truly conflicted in the decision to keep Colton and I remember making myself sick over the potential to jeopardize my friendship with Tia. I made the decision to keep him one more week but not feed anymore into our relationship until I was able to speak with Tia …
And that brings us to tonight. Enter Tia (and other Bachelor alums from Arie's season. Missed ya, ladies!), who were enlisted to weigh in on Becca's suitors. Time for Tia's turn in the hot seat. Come on, girl. You knew this had to be coming. This whole reality TV world is far too small.
"It was before our season had even started airing," Tia answered, when Becca pressed her on what went down.
Of course, the question of whether he thought she might be The Bachelorette when applying to be a contestant came up.
So, what does Bachelor Nation have to say about this love-ish triangle?
Things got to an awkward point when Colton, Tia, and Becca all had to hang out on the spa date in their robes pretending like everything was all good. "This is one of my worst nightmares played out and to be honest, I'm scared," Colton remarked.
After some more cringey-ness, Becca decided she needed to have a sit-down with Tia to get more intel. Here's what Tia had to say:
I mean I was nervous. The last time we saw each other, this wasn't the scenario at all. The most we did was kiss. And we never really had an established conversation about what we were. Within a few days of talking to me, he told me he was applying to the show. What are the odds of you actually making it?
She also cleared up how things ended, saying they eventually chose to be friends due to the long distance... But Becca still wondered about Colton's intentions — perhaps he had hopes Tia would be the one handing out the roses.
"Possibly," remarked Tia.
"I hope he's fully here for you," she added.
Tia also weighed in on the situation in an interview with People and divulged that social media initially brought them together.
"We started talking before my season started airing. Colton was in the casting process for The Bachelorette, and he followed me on Instagram," Tia explained.
It always leads back to those Insta DMs, doesn't it? Tia added,
I DM'd him first and within a few days he told me he had applied to be on The Bachelorette. But he hadn't gotten the final call so we thought, we get along well, we might as well just keep talking and doing whatever this is. The whole time I kept thinking, 'What are the odds that he would get on the show?'
But following a weekend in Los Angeles the pair called it quits when Colton landed the Bachelorette gig. As Tia puts it, "I knew he needed to do what he needed to do."
Colton discussed his emotions surrounding his Tia connection last week when he admitted his past to Becca. His heart just wasn't it in it... He told her:
Prior to coming on to this in January I had a relationship with Tia and I wanted to make sure to explain sort of that we had a weekend together, but for me the timing wasn't right to grow what was a spark into a flame. If my feelings were strong enough I wouldn't have come on this.
When Becca and him spoke again this week after doubts continued to follow her, he reminded her how much he wanted her to trust him and that Tia was completely out of the picture. (Even though he saw her earlier that day. Eek.)
"The emotions that are here are so strong," Colton promised Becca. "I think that there's a lot that I want you to know about me and I think it was very important to start this with honesty and openness because I don't think you had that in your last relationship."
Man, dating is hard enough. Dating as a Bachelor alum? Talk about complicated. You never know if you'll end up having to clarify your relationship history to one of your friends (and all of America) on national TV.