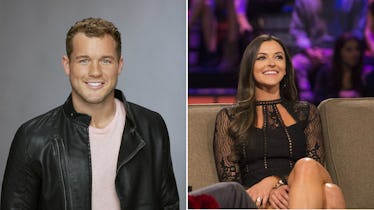 Tia Reveals Exactly What Went Down Between Her & Colton & It Involves Serious DM-Sliding
ABC
During Week 2 of The Bachelorette, fan-favorite contestant Colton dropped a bomb when he revealed that he'd previously dated Becca's friend (and former Bachelor star) Tia Booth. Becca was obviously rattled, but ultimately, she chose to keep him around because she felt a strong connection with him — as in, she thinks he's super hot (don't we all?). Even though Becca ended up giving Colton a rose, I have to wonder: How did Colton and Tia start talking? Tia finally revealed to People what went down with the former NFL player, and it sounds like there was some serious DM-sliding going on.
On Monday's episode of The Bachelorette, fans will finally see the Colton-Tia-Becca love triangle come to a head. Becca invites some of her Bachelor friends on a group date, and of course, the group includes both Tia and Colton. You can say a lot of things about The Bachelorette, but you can't deny that they know how to do drama.
So, how did Tia and Colton get in this awkward situation to begin with? Tia told People that their relationship started months ago over Instagram DM:
We started talking before my season started airing. Colton was in the casting process for The Bachelorette, and he followed me on Instagram. I DM'd him first and within a few days he told me he had applied to be on The Bachelorette. But he hadn't gotten the final call so we thought, we get along well, we might as well just keep talking and doing whatever this is. The whole time I kept thinking, 'What are the odds that he would get on the show?'
OK, Tia, I have to stop you. You didn't think he would actually get cast on The Bachelorette? He's a hot, charitable former NFL player with gorgeous eyes! Either Tia was lying to herself because she wanted to keep talking to Colton, or she's just extremely naive, because Colton has Bachelorette contestant-turned-Bachelor written all over him.
After DM-ing for a while, the two began hanging out (Colton admitted to Becca that he spent a weekend with Tia a few months ago), but Tia insisted that once he was cast on The Bachelorette, their relationship ended. "Things came to a halt. I knew he needed to do what he needed to do," said Tia.
Tia told People that she wanted to tell Becca about her relationship with Colton at the After the Final Rose special, but she ultimately couldn't do it (it's unclear whether she chose not to tell Becca or if she just didn't have an opportunity to do so). However, Tia acknowledged that because she just had a brief fling with Colton — not a full-fledged relationship — she didn't feel too bad about ending things:
I just wanted to make sure they would give each other a chance ... It would have been more complicated if we were an exclusive couple. That was never a thing. We knew logistically it wasn't really going to work.
All in all, it seems like there were no hard feelings between Tia and Colton (and hopefully Becca). While I was skeptical about Colton's confession in Week 2, I'm starting to think that it was definitely the right move. Being transparent about a brief relationship that ended on good terms seems like a better decision than allowing it to turn into a full-blown issue.
While it seems like the excitement has cooled on the Tia-Colton-Becca situation, fans will still get a healthy dose of drama during Week 3. On Monday, People released an exclusive clip of the group date, and oh my does it look awkward. I really feel for both Tia and Colton, both of whom do a very, very bad job of pretending like everything is A-OK. "Tia, she's here," says Colton in the clip. "Immediately, I was cringing a little bit, and I'm feeling nervous. I really don't think I'm going to be able to relax and enjoy the day." Same, dude, same.
Even though fans may have to cringe their way through this week's group date (and it won't all be Colton-related: Becca doesn't remember Jason's name, and it's beyond awkward), it's nice to know that things end on a good note. You can't take a happy ending for granted these days, can you?