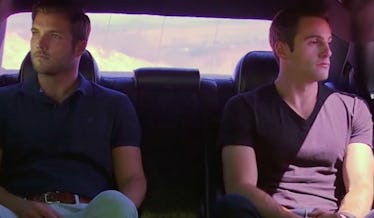 Jordan & David Had A 2-On-1 Date With Becca & It Was Really Hard To Watch
ABC
The time has come, Bachelor Nation. The anticipated (or dreaded, depending on how you feel about all this drama) Bachelorette 2-on-1 between Jordan and David is finally here. Let's just say these guys aren't exactly best bros. In fact, they appear to downright despise one another. What's a reality show to do? Make them go head-to-head, of course! Even casual Bachelor franchise fans know that two feuding contestants usually face off in a date that ends in just one rose. As expected, Jordan and David's 2-on-1 Bachelorette date was a cringeworthy display of two guys trying to one up each other.
Floridian male model Jordan and Colorado venture capitalist David were the obvious choices for this suspenseful Vegas date. The audience couldn't help but wonder: would one of them end up stranded a la Ashley I on Chris Soules' season? Last week, the tension built when David returned to the mansion after a stint in the hospital following a nasty bunk bed fall. Jordan had dubbed himself the "golden boy" with victory in the bag, thinking that David was out of the competition, but when David came back — and got a pre-ceremony rose from Becca — Jordan didn't take it too well.
"Did anyone give him a mirror?" Jordan remarked, making a dig at David's post-injury appearance.
"I may not have a male model face at this point, but I have a rose, b*tch," David then stated in an interview after he found out he was safe.
With David and Jordan's rift bubbling to a boiling point, it was no surprise that the dueling dudes got stuck solidifying their fates in the middle of Nevada's arid wasteland. What transpired between them became what you would probably expect... a war of words, eye-rolls, shade-throwing, and meltdowns of, well, petty proportions. It was basically like watching the most ridiculous western ever.
"Jordan is an idiot. I can't wait to send this clown home," David announced prior to the desert showdown.
"David has no game, he has no charisma," Jordan noted.
"I'm going on with clean, genuine energy," Jordan added, after David asked him if he was going to wear his metallic hot pants. "David's head is in my underpants."
The rivals then squabbled about the definition of competition or some frivolous semantics when Jordan said "may the best man win" referencing their date. Aw, these two will fight over anything.
2-on-1 dates have a history of going a little something like this: one contestant talks poorly behind the other person's back, the other contestant does the same, and then the Bachelor or Bachelorette gets frustrated with the bad-mouthing and doesn't know who to trust. It's a battle of who's here for the right reasons and it feels as familiar as brushing one's teeth at this point. Unfortunately the scenario ended up giving Becca Arie flashbacks (eek!) — she's all about transparency and complete loyalty because of what she's been through.
After David confessed to Becca that he felt Jordan viewed her as "settling," she conjured up memories of her ex-fiance, recalling that Lauren had labeled her "the safe choice."
"I exposed him for who he is. The golden underpants wearing clown," David declared after the conversation.
Becca then wasted no time in pressing Jordan on the issue. He subsequently called David a liar (did you think he would own up to it?) and was completely set off from that point on.
"Everything's just totally manufactured. He has a way of manipulating words," Jordan promised Becca.
Jordan went on to open up about his capacity to be a loyal partner because he watched his father be a good partner to his mother through her mental illness.
Then, things got ugly.
Jordan and David started slewing insults and curses, touching on everything on the power of love to Tinder to being "genuine." This is exhausting.
"You're worse then Arie!" a heated Jordan yelled.
Poor Becca had to sit the two men down to get the story straight (oof, this is becoming a trend considering the immaturity viewers have witnessed thus far), admitting that she was frustrated and annoyed and felt like she was in sixth grade all over again.
It all resulted in a somewhat shocking moment of truth. Who is going to get the rose now?!
"Going into tonight I still have so many questions and I think one of you guys has really taken the time to open up," Becca said, telling David she wanted to part ways with him and further figure out if Jordan deserved a rose.
"Why did the chicken cross the road?" a satisfied Jordan joked to the camera. "To get buried in the f*cking desert."
But despite Jordan moving on to the dinner portion of the evening, he didn't get a rose either.
Now that this tumultuous chapter in Bachelorette history is over, I think I need a nap now...