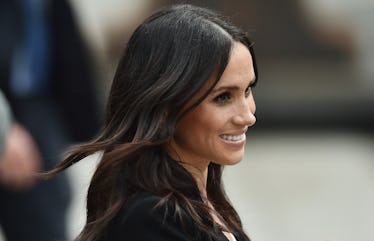 Meghan Markle Has Apparently Done Her Own Makeup For Recent Royal Events, Because She Does It All
Charles McQuillan/Getty Images Entertainment/Getty Images
Just in case you may have thought the Duchess of Sussex's humility had changed since becoming a royal, think again. Although her marriage to Prince Harry typically means she now has a whole staff of people waiting on her hand and foot, believe it or not, Meghan Markle does her own makeup for royal engagements (well, lately at least). And no, I'm not kidding.
On July 10, makeup artist Daniel Martin — who's responsible for Markle's stunning wedding day glow — revealed that he did not create the 36-year-old's look for the RAF service at Westminster Abbey, where Markle stunned in a black dress, after being asked by fans of the Duchess on his Instagram page. "I didn't [do her makeup], but she's so good doing it herself, right?!" Martin confessed, continuing in another comment, "She did her makeup herself for this." Gasp!
It seems as though the new royal went for a natural finish for this event — focusing on making her eyes pop with mascara, black eyeliner, and a touch of eyeshadow. While wearing a nude lip, paired with some rosy blush, Markle made her cheekbones shimmer with a hint of subtle highlighter. For the rest of her look, Markle sparkled in Dior from head-to-toe, wearing a boat-neck dress (the same cut as her wedding gown), along with a black clutch, pale beige heels, and a fascinator created by designer Stephen Jones, according to Harper's Bazaar.
Speaking with Glamour in May, Martin shared that the former Suits star has always been big on keeping her look as natural as possible — even for her wedding. And while she's never been one to make a fuss, she always asks that her freckles shine through, especially on her big day.
"She's very much about keeping her skin as real and natural as possible," he said. "I focused on bringing out her best self and elevating it to a level, that you're not necessarily able to achieve yourself."
The makeup guru also shared that, for Markle, skincare is paramount and revealed what he did to give her that incredible glow.
"I started by prepping her skin with a clarifying toner, water-based moisturizer, and a Korean sunscreen that also acts as a foundation gripper to lock down foundation," Martin explained. "Then I just balanced and neutralized any discolorations where needed with concealer and foundation."
Nichola Joss, a London-based facialist who's previously worked with the Duchess, also told Vogue back in May that facials are very important to Markle, and that they are an essential part of her skincare routine as well. The former actress also once confessed her biggest beauty secret to Birchbox a while back, and it's probably something you've never even heard of.
"I regularly do facial exercises, I swear it works, as silly as you may feel," she said. "On the days I do it, my cheekbones and jawline are way more sculpted."
But although our new favorite princess loves going au naturel, like most of us, there are times when she's willing to go for bolder makeup, which we saw in late June. Attending the Queen's Young Leaders event, the California-born beauty rocked a cheeky look rarely seen on a royal.
Wearing a pale pink, double-breasted Prada dress, along with black Aquazzura pumps, Markle's cheeks caught everyone's attention, as they were dusted in what appeared to be a vibrant, rosy highlighter. Of course, no one knows exactly what she was wearing on her cheeks that day, but my guess would be that it's similar to Fenty Beauty's Killawatt Freestyle Highlighter in Ginger Binge/Moscow Mule. But no matter what it was, I want it.
Clearly, Markle is a royal who isn't afraid to play around with her look. And whether she gets her makeup done professionally or does it herself, she always manages to look absolutely stunning.