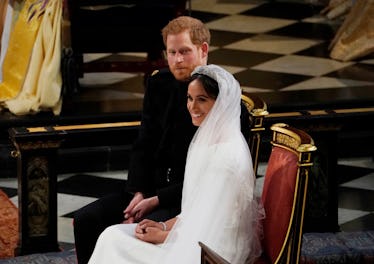 Meghan Markle's Royal Glam Squad Is So Personal, You Won't Believe Who Did Her Hair & Makeup
WPA Pool/Getty Images Entertainment/Getty Images
When I got married, I used an app to order in-room hair and makeup. I made sure to do a trial run beforehand to make sure I'd love everything, but after spending my entire budget on flowers and a venue, I had to get scrappy with my beauty look. So who does a future Duchess hire when she has unlimited funds and professional hair and makeup artists vying for a spot on her glam squad? I'm about to spill the royal tea. If you're wondering who did Meghan Markle's wedding hair and makeup, you're not alone.
I mean, it's one of the most-watched weddings ever, not to mention a major part of history (your kids might read about her in a text book one day, assuming they'll still be using books then). She could literally show up with her own makeup bag and every-day hair brush and still look stunning, but every girl wants her wedding day to feel special and look like a slightly more glammed-up version of her every-day self. So it's no surprise that she turned to the man who is responsible for the shiny strands of Julia Roberts, Sarah Jessica Parker, and Helena Christensen, hairstylist Serge Normant, to prep her for her moment in the spotlight.
Upon first glimpse of the soon-to-be Duchess of Sussex, we see her sitting in the back of her chauffeured Rolls Royce with a center-parted low bun. Paired with a medium-weight tiara and a blusher veil, Markle stuck to her usual minimal style. Though she's catching some criticism for it being a little too messy (the hair around her hairline crawled onto her face and pieces of her bun slipped out as the ceremony went on), it's the perfect complement to her simple gown.
I mean, let's be real, there's no way she could've worn some elaborate hairstyle with such an effortless silhouette. There isn't a single bead on her Givenchy dress — a fancy updo would've thrown the entire look completely off. And to be honest, the veil stole the show for me anyway, so I can see why she kept the hair classic and pulled back. It deserved to take center stage — even flora of all 53 states of the Commonwealth were represented in the design. Though, I wouldn't be mad if she had tried a braid or some voluminous waves.
As for her makeup, here's where things get really interesting. In addition to celebrity-approved makeup artist Daniel Martin, who envisioned the look, the bride enlisted the help of her close personal friends to assist in its creation. Although her friends are not professional makeup artists, they were bestowed the royal duty by a very trusting royal-to-be. I love my girls, but I can't say I'd let any of them near my face on my wedding day. Would you?
Equally as minimal as her hairstyle, Meghan Markle's wedding makeup consisted of fresh-looking skin (so fresh, in fact, you can still see her super cute freckles), a subtle daytime smoky eye and a glossy nude lip. Truthfully, I feel like I'm wearing more makeup at 4 a.m. as I sit on my couch in pajamas. But with that, I have to say, I have a newfound respect for Meghan Markle.
This is her big moment. All eyes around the world are on her, and she chose to stick true to herself and her personal style. If it were me, I'd undoubtedly go all out, Princess-Diana style, but the over-the-top look isn't for everyone. So for those who thought the Duchess would change when she became royal, think again. She might have a flyaway or two, but she's still the same Meghan Markle.