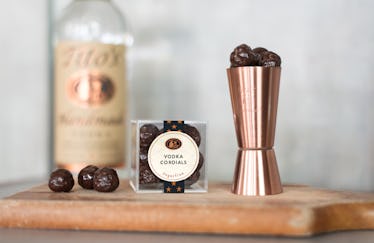 Vodka-Infused Chocolate Officially Exists & It's About To Become Your Favorite Candy
Sugarfina
There are many ways to power through the cold winter days and long winter nights. Some prefer to stay huddled up indoors with blankets, heaters, and lots of Netflix. Others prefer to embrace the cold with activities like sledding, skiing, and snowboarding. But there is one way to get through the season that truly speaks to all of us: chocolate. Whether it's hot chocolate, fresh-baked chocolate chip cookies, or a Snickers bar, a little chocolate fix makes working through the winter blues a little easier. Luckily, Sugarfina and Tito's Vodka came together and took chocolate to a whole new level. They infused chocolate with vodka, and we're so freaking excited. Here's where to buy Sugarfina and Tito's vodka-infused chocolate, and their other sweet, boozy treats.
According to brand representatives, Sugarfina is now offering a range of candies inspired by two of Tito's signature cocktails. While they might not going to help you get a buzz on, they're a fun treat for anyone who enjoys a little something sweet and a solid cocktail. You can buy them on Sugarfina's website, but you must be 21 years old to make a purchase.
The first is the Tito's Vodka Cordial. The outside is made of rich, dark chocolate, and the inside contains a little sip of Tito's 5 percent ABV. This Tito's Vodka Cordial is listed as an alcoholic treat.
The second is the Tito's American Mule Bear, which, as you probably guessed, is Sugarfina and Tito's take on a gummy bear. The precious, amber-colored bears are infused with Tito's Vodka and a splash of ginger beer, however they are non-alcoholic.
You can purchase the treats separately on the Sugarfina website for $8.50 each, or as part of the Vodka Is Always A Good Idea candy bento box for $28. The box comes with a mini mule mug that's perfect for holding your mule bears or your chocolate cordials. And when you're done, you can use it for actual vodka.
The collaboration also includes another totally adorable, non-alcoholic treat that's almost too cute to eat. Sugarfina and Tito's Martini Olive Almonds consist of fresh roasted almonds dipped in white chocolate and painted to resemble a martini olive, pimento and all. Just don't drop one in your martini — unless you're into that sort of thing. The non-alcoholic Candy Bento Box includes the Martini Olive Almonds, the American Mule Bears, and the mini mule mug, also for $28.
If you've never heard of Sugarfina, they're like Dylan's Candy Bar, but more mature. They call themselves "the ultimate candy store for grown-ups," and with a quick peek at their website, it's easy to see why. They offer luxurious candies in classic shapes like bears and and fish, and more customized, adult shapes like cacti, flamingos, and long-stem roses.
When it comes to boozy candy, this isn't Sugarfina's first, or even second rodeo. To celebrate National Tequila Day 2017, the brand released a spicy tequila-infused chocolate bar as part of their collaboration with George Clooney's tequila company, Casamigos. Plus, their regular range of candies includes a number of alcohol-inspired gummies and chocolates. Among them are Champagne Bears, Stout Pint gummies, Rosé gummy roses, Scotch Cordials, and Jamaican Rum Snow-Balls. If I can make one suggestion: Just as you wouldn't drink on an empty stomach, don't visit the Sugarfina website on an empty stomach. So. Many. Goodies.
Sugarfina also makes plenty of non-alcohol-inspired treats and have teamed up with brands that appeal to a younger audience, too. In September, Sugarfina collaborated with Sanrio to create Hello Kitty gummies, including Mama's Apple Pie Hello Kitty faces and Strawberry Bows. For Halloween, they released gummy Zombie Brains, Sugar Skulls, and mini pumpkins, all in a coffin-shaped bento box.
Check out the entire Gen Why series and other videos on Facebook and the Bustle app across Apple TV, Roku, and Amazon Fire TV.