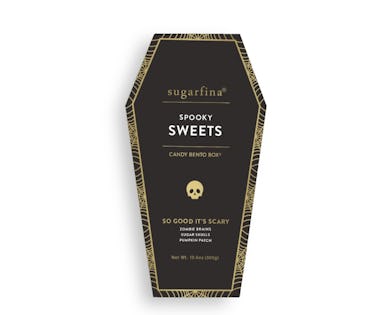 Sugarfina's 'Spooktacular' Halloween Gummies Are Almost Too Cute To Eat
If you're in search of sugar, spice, and some things that are not so nice, might I suggest zombie brains and sugar skulls? If you're too spooked, don't fret — these creepy candies definitely aren't as frightening as they sound. Sugarfina released Halloween gummies, and the ghoulishly good sweets are definitely ones you want to snag for your trick-or-treat bag.
The bento box coffin —appropriately shaped for this time of year — comes equipped with three different flavors for $28. Those zombie brains? Not to worry — they're strawberry-flavored. Sugar skulls sport a tart raspberry taste and the pumpkin patch gummies are as orange in taste as they are in color. Not so scared now, right?
Rosie and Josh, the creators of the company, are definitely real-life Willy Wonkas, and naturally, Halloween is a time of year that perfectly speaks to Sugarfina's mission. " A simple question — "why should kids have all the fun?" — led us on a quest to create the ultimate candy store for grown-ups," the site reads. "In the two years that followed, we traveled the world to meet with artisan candy makers and taste-tested thousands of candies in our search to find the best of the best."
Color us happy... and spooked. Here's Sugarfina's frightfully adorable coffin bento box.
Coffin Bento Box, $28, Sugarfina
What's not to love about this delicious trio? It's the perfect mix of sweet, scary, and sugary — mandatory qualities for the October holiday. The three flavors are also sold separately for $7.50. But for those who are looking for a surprise this Halloween, the candy company has something else up its sleeve.
Behold: Sugarfina's Pumpkin Surprise Ball.
Pumpkin Surprise Ball, $12, Sugarfina
Isn't it adorable? The best part about this Halloween goodie is you're not exactly sure what you're in for. You can open it up to candy, a riddle, vintage-style toys, or even a temporary tattoo. For $12, you can try to decipher what's in the pumpkin before you crack it open.
This isn't Sugarfina's first time reaching candy stardom.
The brand has made quite a splash with its other products, including the recently released Hello Kitty gummies — talk about sweet. Sugarfina created two new flavors in honor of everyone's favorite cat. According to a press release announcing the news, the company wanted to "celebrate her iconic style" with Hello Kitty Mama's Apple Pie Gummies and Hello Kitty Strawberry Bow Gummies. No need to tell me twice, Sugarfina.
The brand is also known for its boozy concoctions.
The luxury candy boutique kicked off a new product in partnership with George Clooney's tequila brand, Casamigos, offering fans the best of both worlds (for those who are 21+). There is certainly no reason not to snag yourself a box of tequila gummies. They're cute, tasty, and beneficial. Not convinced? A new study claims a sweetener that's created from the plant used for tequila could lower blood glucose levels for those with diabetes and help them lose weight. Bet you didn't see that coming, right?
Naturally, since rosé took over everyone's lives this year, it was only fitting that Sugarfina pay homage to the millennial pink wine. Its rosé gummies are infused with Whispering Angel Rosé, which sounds divine, so much so that these bad boys sold out in just two hours.
But for those who are looking to cleanse, Sugarfina also has answers for you. Why get healthy with plain, 'ol boring stuff when you can snag a bite of cute gummy bears? Sugarfina partnered with Pressed Juicery to create "Green Juice" gummy bears — an oxymoron if there ever was one. "We're serious about what we do, but we don't take ourselves too seriously," Pressed Juicery CEO Hayden Slater told Delish. Though the snack technically stemmed from an April Fool's prank, green gummies became a go-to item. "We loved the idea of gummy bears inspired by the juice trend, but we had no idea it would be so in demand," Sugarfina Co-founders Rosie O'Neill and Josh Resnick told Delish.
Sugarfina, you've found your way into our hearts. We can't wait to take a bite of those skulls and brains this Halloween. In fact, we just might add all of your items to our trick-or-treat bag.
Check out the entire Gen Why series and other videos on Facebook and the Bustle app across Apple TV, Roku, and Amazon Fire TV.