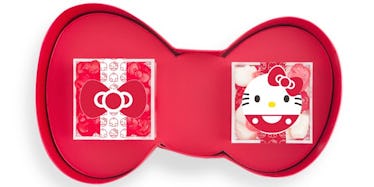 Hello Kitty Gummies By Sugarfina Are Here And They're The Cutest Candies Ever
Sugarfina
You've probably noticed Sugarfina before. The playful candy brand frequently releases unusual gummy products. Sweet items like their rosé-flavored "Rosé All Day" gummies and their champagne-flavored "Champagne Bears" give them a rather unique appeal. However, the brand tends to elevate things even more when it comes to collaborations. Their seemingly healthy "Green Juice Bears" collaboration with Pressed Juicery piqued the interest of both the candy- and wellness-obsessed. And now, they're giving Hello Kitty fans a reason to empty their wallets with a highly-anticipated Sanrio collaboration. Though you already know where to buy Hello Kitty gummies by Sugarfina and Sanrio, keep reading to find out all the exciting details you need to know about the collection.
Known as "a luxury candy boutique for grownups," Sugarfina's branding aligns perfectly with the adorable lifestyle brand behind Hello Kitty, and the products prove it. Many of the Sugarfina x Sanrio goodies are already-existing Sugarfina products that have been re-branded with Sanrio characters in place of their usual labels. But that's not to say there isn't newness to expect from the cuteness overload.
Sugarfina actually created two new flavors in honor of Hello Kitty. According to a press release announcing the news, they wanted to "celebrate her iconic style" with Hello Kitty Mama's Apple Pie Gummies and Hello Kitty Strawberry Bow Gummies. You can probably guess what they taste like, huh? Either way, let's zoom in on the real head-turner: their packaging!
Hello Kitty Mama's Apple Pie Gummies
Retailing for $8 per cube, these gummies are shaped like Hello Kitty herself and taste like her favorite food: her mama's apple pie.
Hello Kitty Strawberry Bow Gummies
Also $8 per cube, the Hello Kitty Strawberry Bow Gummies are shaped like her signature accessory, yet taste like a juicy strawberry.
I don't know about you, but I'm over here saying to myself, "I want both!" If you're sentiments are the same, you'll be pleased to know both cubes come in a limited edition bow-shaped Candy Bento Box ($20). Yes, it's cheaper to get them individually, but then you'd miss out on owning the chic red box!
Here's what it looks like, for reference.
I addition to Hello Kitty everything, the Sanrio collection at Sugarfina features other popular characters, too. They've each been paired with a classic Sugarfina flavor that "matches their personality," a press release says. While they're all precious in their own right, Gudetama's Lazy Gummy Eggs are so perfect. They look like hard boiled egg halves and pay homage to "the lazy egg who can't be bothered to do much of anything." (I may or may not be ordering 10 cubes for my Netflix-addicted self.)
Lazy Gummy Eggs
Just like the Hello Kitty line, a cube of these realistic AF eggs will cost you $8.
I honestly can't wait to own all of this. Those behind the awesome candies are super pumped, too.
When news of the collab broke, Sugarfina's co-founder and chief creative officer, Rosie O'Niel, said in a statement,
I grew up with the Sanrio characters as a little girl and love them even more today. There's something so irresistibly cute about Hello Kitty and her friends and this collaboration is a childhood dream come true.
Jill Koch, senior vice president of brand management and marketing at Sanrio, agreed that the two brands are a match made in heaven. She explained in her statement,
Our Sugarfina collaboration captures the essence of Sanrio's small gift, big smile philosophy. Sugarfina is known for their delicious candies in a high-quality, giftable presentation. Pairing our supercute characters with their gourmet sweets and signature packaging details will bring smiles to fans of all ages.
All the Sugarfina x Sanrio products will be available on Monday, Sept. 18 in-stores and online. Visit Sugarfina's pre-sale page on their website right now. Or, to get a free cube, be one of the first 25 people in line at your local boutique on Monday!