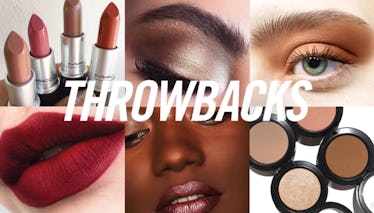 MAC Cosmetics Is Dropping Discontinued '90s Makeup & My Vanity (Heart?) Can't Handle It
MAC Cosmetics
It's not Thursday yet, but I've already got a major #TBT announcement for you. No baby pictures here (you can thank me later), but prepare for major nostalgia. One of your favorite beauty brands is rereleasing discontinued products! Here's where to buy MAC Throwback makeup because the '90s are back, baby.
You know when you're running out of your favorite lipstick but they don't make it anymore, so you want to use it but you also want to savor it and cherish it forever? That problem is officially squashed because MAC Cosmetics just dropped a ton of throwback makeup, including previously discontinued shades of lipstick and eyeshadow. "Uninterrupted" is a beloved MAC eyeshadow that reached legend status when it was discontinued, breaking '90s hearts across the globe. "Spanish Fly" is a lipstick shade that can only be described as a fairytale, until now. Twitter is thrilled with both of these comebacks, as well as with the rest of the drop.
A quick recap on all the other '90s trends that are enriching my life right now: my favorite '90s sitcom (other than Friends), Sister, Sister, is getting a reboot, there are tons of '90s fashion and beauty trends thriving, and Zendaya released a collection with Boohoo inspired by the b̶e̶s̶t̶decade. I could go on, but you get the idea. The MAC Cosmetics Throwbacks will fit right in.
Eye Shadow in Goldbit
($14; nordstrom.com)
This pinky hued pan has just the right amount of golden shimmer to take you from day to night.
Eye Shadow in Kid
($14; nordstrom.com)
"Kid" is a warm beige color that is great for layering and mixing with almost any other shade.
Eye Shadow in Tete-A-Tint
($14; nordstrom.com)
This neutral has a slight peach shade to it which will brighten up any eye look.
Eye Shadow in Uninterrupted
($14; nordstrom.com)
"Uninterrupted" is a caramel-colored dream. Wear it on its own for a bronzed goddess look or you can buy all four of these throwback shadows in mix and match pans ($6; maccosmetics.com) and layer them together — get a Pro Palette Eye Shadow Compact ($8; maccosmetics.com) to make your DIY eyeshadow palette.
Matte Lipstick in Bronx
($15; nordstrom.com)
A rosy taupe for when you almost don't even want to look like you're wearing lipstick.
Matte Lipstick in Marrakesh
($15; nordstrom.com)
This bold, coral-red embodies the colorful vibes of Marrakesh, Morocco.
Matte Lipstick in Rocker
($15; nordstrom.com)
Actual musician or not, a deep red color like this will make anyone feel like being center stage.
Satin Lipstick in Shrimpton
($15; nordstrom.com)
This pinky satin lipstick is an understated hue but has a hint of shine for the glimmer you so desire.
Frost Lipstick in Icon
($15; nordstrom.com)
If you really want your pout to shine, go for one of the Frost Lipsticks, they've got shimmer for days.
Frost Lipstick in Skew
($15; nordstrom.com)
Sparkly pink lipstick, what more could a girl ask for?
Frost Lipstick in Spanish Fly
($15; nordstrom.com)
Spanish Fly is an iridescent purple-brown slice of lipstick heaven.
You can see how each shade of lipstick looks on a few different skin tones, above is Spanish Fly, one of the more unique hues.
MAC Cosmetics also provided some images to show some of the other lipsticks and eyeshadows in action.
Makeup artist Mariam Khairallah models the "coffee-hued" Uninterrupted shadow.
Sofie Zoffee Udklit mixes Uninterrupted with a newer MAC product to show its versatility. Udklit looks to have used MAC Liquidlast Liner in Blue Me Over ($21; maccosmetics.com) for her pop of color.
Twitter was abuzz with the news of this collection and had some questions about it. MAC confirmed that the lipsticks are back indefinitely, but the four throwback eyeshadows are only here for a limited time only.
"My @MACcosmetics #THROWBACK purchases are in 🖤 #SpanishFly #Uninterrupted," tweeted one excited customer who bought two of the most infamous products.
Another beauty addict was particularly excited about the Skew Frost Lipstick: "Skew!!!! Oh my god!!!! Loved skew!!!!! 💄💋👌🏻👌🏻👌🏻👌🏻
"Yass! Finally M•A•C brings back some of my favorite OG shadows: KID, TETE-A-TINT & UNINTERRUPTED! @MACcosmetics #maccosmetics #throwbacks," this gal couldn't even chose a favorite.
"Back from the vault! @MACcosmetics #throwback," this makes it sound so official, as if the products were have been stored in a bank vault since the '90s, which would be pretty cool.
"OMG @MACCosmetics re-released UNINTERRUPTED! I have heard so much about this shadow," and now you can experience it yourself!
Me once my MAC Throwback lipstick comes in the mail.