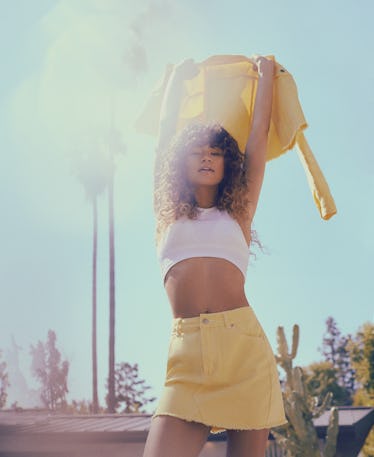 Zendaya Is Dropping A '90s Fashion Line & It's So Affordable I Could Cry
Courtesy of Boohoo
Zendaya, hands down, has my favorite celebrity style. She's a boundary-pushing sartorial and beauty chameleon, and she always looks impeccable. And now, the 21 year-old multi-hyphenate is working with online fashion store Boohoo on a collection. When does Zendaya x Boohoo drop? It's about to get even easier to dress like my idol.
Zendaya most recently wowed on the 2018 Oscars red carpet in a one-shoulder Giambattista Valli gown that, while jaw-dropping in its beauty, is no doubt way beyond my budget. She also sported horse-shaped pasties one time, but that was a look I'll leave to her. Her first venture into the fashion retail game was with gender-neutral line, Daya by Zendaya, but unfortunately, she ended up ceasing production due to issues with order fulfillment. My girl Z promised she'd be back with future projects, and my rain dances have paid off because that time is now.
The actress has teamed up with established online fashion retailer Boohoo to curate a collection of her favorite items from the brand. The Zendaya Edit for Boohoo will be sold online very soon — and even better than the fact that it's done by Z — is that it's a '90s-inspired collection and it's affordable AF. Cue the screams of joy.
Zendaya modeled a select portion of the collab to give fans a preview of what's in store for us, and to serve as inspiration for how to wear the pieces.
I've missed jean skirts so much I can't even tell you how excited I am that they're back. And in yellow! Zendaya talked to WWD about the collaboration and it's clear she did this for us, the fans.
I know my fans, and I know what's important to them. They are chic, fashion-forward and love clothes, but like most people, wanna be able to ball on a budget. So I felt this was a perfect fit, to help them choose some easy pieces that aren't just 'trendy' but also attainable."
Balling on a budget is my new life motto.
Never did I ever think I'd consider buying a shiny, lavender suit, but here we are.
The Zendaya x Boohoo collection is overwhelmingly '90s-inspired, but also serves a cheeky nod the the '70s. "I think it's eclectic like my style, but somehow all works together...like my style," The Greatest Showman actress told E!. A gilded "jean" jacket is definitely eclectic.
Zendaya hand-picked every item in this collection, so no matter what you buy, it's all got her stamp of approval. You'll be able to shop everything the actress wore in the above campaign photos as well as dozens of other pieces of apparel and accessories.
There are over 50 items in all, check out more of the highlights below to pass the time until you can shop it all.
When life gives you lemons, wear a yellow denim jacket and skirt.
I will be wearing this trench/dress/trench-dress all spring long, you can quote me on that.
Oh my god I need.
Also need these, to wear with the above top.
Tracksuit turned jumpsuit FTW.
This silky maxi dress could be anything from a summer wedding outfit to a v glam beach coverup.
Yes. Just, yes.
I used to be scared of white bathing suits (what happens when they get wet?) but if Zendaya is telling me to buy one, I'm down.
OK I'm dead, please bury me in this dress.
Zendaya's collection includes "denim, slogan tees, athleisure, stripes in pastel palettes," and so much more says Boohoo. Boohoo is one of the most affordable and trendy sites out there, so the best part of this whole thing is that prices for the merch start at $5 and cap off at $100! You can get Zendaya's style for as little as $5. Even more, sizes go up to a 22 so everyone can shop it.
The Zendaya Edit for Boohoo drops on Mar. 21, 2018 at 1 p.m. ET. Ready, set, shop.