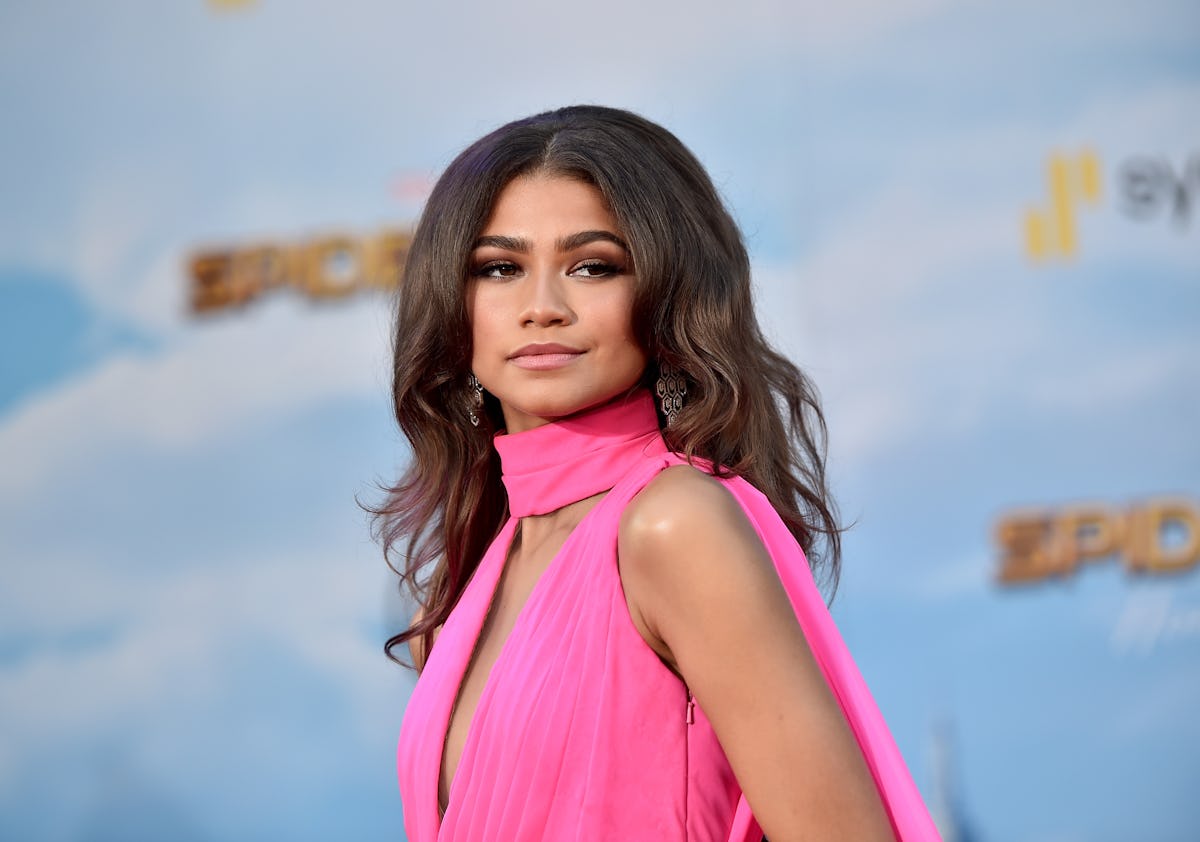 Zendaya Rocked Horse-Shaped Pasties Last Night & I Can't Decide If The Look's Yay Or Nay
Alberto E. Rodriguez/Getty Images Entertainment/Getty Images
It's relatively common knowledge that award shows are usually rivaled (or even upstaged) by the real show, the red carpet arrivals. Last night, the British Fashion Awards in London were no exception, as major stars hit the carpet in mind-boggling #fashun. Photos of Zendaya's British Fashion Awards dress are going viral, and for the love of horses, you have to see this equestrian-themed get-up.
For those unfamiliar with The Fashion Awards, it's a London-based awards ceremony that doesn't disappoint. The Fashion Awards recognize designers and models from all over the world in various categories, even crowning a Model of The Year (cough Adwoa Aboah cough). The event is, unsurprisingly, littered with gorgeous celebrities of all kinds, and crazy fashion statements to match.
While the Academy Awards are all about the gowns, and the Grammys prove to be a catwalk for some of the craziest outfits around town, this year's Fashion Awards ceremony was a parade of can't-miss lewks. Zendaya led the pack, or in this case, the herd, at this year's event in a sheer dress with horse-shaped pasties. Other celebrities were decked out in Westworld-inspired looks, golden cowboy boots, and mini-dresses to end all mini-dresses. I've gotten your attention now, haven't I? Time to dive in.
Yay Or Nay?
Velour, horse-shaped breast covers are officially a thing. Zendaya's dress is by Italian designer Vivetta, and appears rather modest from the waist down. Above the bejeweled belt, however, is another story. The singer and actress' top half is covered by none other than two nuzzling, Black Beauty-esque equines. After you say "awww" over their cuteness and before you scoff at the uniqueness of this gown, I must point out that Vivetta also has a dress with clown heads covering the same body parts, so things actually could've been weirder. While the style is definitely unconventional, I must say that Zendaya manages to come off as a chic AF horse lady. And did you notice her new blonde pixie cut? This girl just kills it every time.
A Very LBD
Zendaya wasn't the only one making waves for her look, because Hailey Baldwin brought new meaning to the term Little Black Dress. Does this even qualify as a dress? Maybe Baldwin just forgot to put on pants? The social media star and model looks amazing in her custom-made Topshop dress, but I can only imagine what it was like to have to worry about a wardrobe mishap in that little thing all night long. I legitimately don't know how she sat down in it. Maybe I'll reach out to her PR rep and ask, and I'll let you know if they respond.
These Violent Delights
Selena Gomez served up serious Westworld vibes in a Coach look with epic 2017-meets-Victorian Era detailing. That frilly neckline, the lace cuffs, and those boots! Maeve onWestworld would definitely wear those. Gomez's dress has pockets, though, so she wins. And between Gomez's blonde lob and Zendaya's platinum pixie cut, I honestly can't decide whose hair statement I like most. But who says I have to choose!
A Good Old Fashion Duel
Actress and model Suki Waterhouse wore this couture Maison Margiela getup which includes a golden bodysuit and matching, metallic, knee-high cowboy boots. I would probably get a few stares on the subway if I wore those around town, but she pulls them off. However, she's not the only one...
Waterhouse's fellow model, Bella Hadid, wore the same look on the runway! Hadid had to go full-on editorial with her look, though, and wore it with gilded hair and some sort of facial and lip jewelry that I honestly don't know about. Both ladies get points for looking fly, but I think Waterhouse wins for taking these golden bad boys out on the town.
Horse pasties, pants-less-ness, and gilded cowboy boots? After last night, I can't wait to see what the rest of red carpet season will bring.