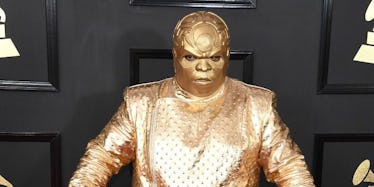 14 Of The Funniest Memes From The Insane Grammys Red Carpet
REX/Shutterstock
Sunday night, the 2017 Grammys took center stage at the Staples Center in Los Angeles and in millions of living rooms around the globe.
From Beyoncé's inspired evening to Adele's numerous show-stopping moments, it was truly a night to remember.
But while the performances were awesome and the acceptance speeches were great, the uncontested champion of the evening had to be the red carpet arrivals.
Some folks (we're looking at you, Chrissy Teigen and John Legend) crushed it with classy threads worthy of Grammys night.
However, celebrities like CeeLo Green and Mike Posner, well, let's just say they generated more laughs than they did genuine questions about their fashion and style choices.
From Green being called an "angry Ferrero Rocher" to Posner drawing comparisons to the Joker in "Suicide Squad," here are 14 of the funniest memes from the insane Grammy's red carpet.
CeeLo Green nearly broke the internet when he stepped onto the red carpet in all gold, and it didn't take long for the memes to start flying.
Twitter came after singer Mike Posner for his green hair with the same ferocity as a lion going after a gazelle.
Seriously, though, I'd love to ask CeeLo Green what he was thinking after looking in the mirror before heading out to the show.
At first, I felt bad for this cat. But the more I thought about it, the more I couldn't stop laughing.
I edited Ceelo Green into the background of pics of Trump in his apartment and holy shitpic.twitter.com/VurY7DMJ1w — Jesse McLaren (@McJesse) February 13, 2017
Don't worry, though, because Twitter also came for Adele and her green dress.
These comparisons by all of y'all need to chill!#Grammys pic.twitter.com/9zJfKOycHa — Pop Crave (@PopCrave) February 13, 2017
And Joy Villa -- I think her Make America Great Again dress only served to make Twitter great again.
Adele got it so, so bad from these savages on Twitter, but can you really blame them?
Though I thought she looked amazing, Tinashe got played, too.
The rest of Tinashe's dress won't show up till her album dropspic.twitter.com/2bbaoAvdpb — Ira Madison III (@ira) February 13, 2017
I mean, what was Lady Gaga thinking when she got dressed Sunday afternoon?
Guys, can we please just leave CeeLo Green alone already?
OK, I guess not. I give up. Let's just let the good times roll.
I mean, even the Power Rangers' official Twitter account got in on the CeeLo Green fun.
.@CeeLoGreen we see what you did there#GRAMMYs pic.twitter.com/1Ja6F8EDOt — Power Rangers (@PowerRangers) February 13, 2017
Girl Crush? Yeah, she got hers for that wild dress she rocked Sunday night at the 2017 Grammys.
I know this one didn't take place on the red carpet, but I'd feel remiss if I didn't mention Beyoncé at least once in this 2017 Grammys meme roundup.